Following is a selection of some of the most highly respected resources on ocean literacy.
The National Marine Educators Association's Ocean Literacy web page: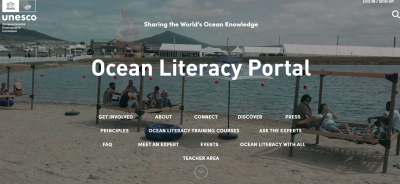 Ocean Literacy Portal: The IOC UNESCO has created "an ocean community where you can share, rate, comment and explore anything and everything related to Ocean Literacy."
United Nations Decade of Ocean Science for Sustainable Development
The United Nations Decade of Ocean Science for Sustainable Development is providing a common framework to ensure that ocean science can fully support countries' actions to sustainably manage the ocean and more particularly to achieve the 2030 Agenda for Sustainable Development. In the United States, the official launch took place in 2021.
The UN Decade of Ocean Science for Sustainable Development was born out of the recognition that much more needs to be done to reverse the cycle of decline in ocean health and create improved conditions for the sustainable development of the ocean, seas and coasts. The Decade of Ocean Science offers a framework to strengthen connections and weave partnerships between all communities working to study, conserve and sustainably use the ocean and its resources. Through stronger international cooperation, the Decade will bolster scientific research and innovative technologies to ensure science responds to the needs of society:
A clean ocean where sources of pollution are identified and removed
A healthy and resilient ocean where marine ecosystems are mapped and protected
A predictable ocean where society has the capacity to understand current and future ocean conditions
A safe ocean where people are protected from ocean hazards
A sustainably harvested ocean ensuring the provision of food supply
A transparent ocean with open access to data, information and technologies
An inspiring and engaging ocean where society understands and values the ocean
A brochure about the UN Decade of Ocean Science for Sustainable Development can be found here.
To learn more, visit: https://www.oceandecade.org/

Ocean Literacy Dialogues
The Ocean Literacy Dialogues series are a global collection led by the Ocean Literacy With All community—a UN Ocean Decade—endorsed program coordinated by IOC-UNESCO. The aim of the Ocean Literacy Dialogues series is to co-organize public events that enable knowledge exchange across different geographical and socio-cultural contexts, and that catalyze action as we work together to achieve the overarching goal of the UN Ocean Decade (2021-2030): to "change humanity's relationship with the ocean." This is the essence of Ocean Literacy. CTSG Education Coordinator Diana Payne has been among the speakers at the dialogues. Visit: oceanliteracydialogues.com for recordings and other information
Ocean Literacy Dialogues series:
1st edition: UN Ocean Conference in Lisbon, Portugal (June 28th-July 1, 2022)
2nd edition: Santos, Brazil (October 10-14, 2022)
3rd edition: IMPAC5 in Vancouver, Canada (February 3-9, 2023)
Ocean Literacy Research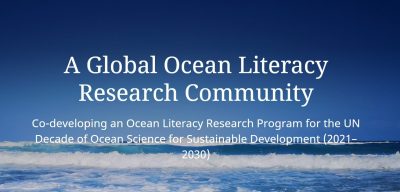 The Global Ocean Literacy Research Community is co-developing an Ocean Literacy Research Program for the UN Decade of Ocean Science for Sustainable Development (2021–2030). CTSG Research Coordinator Diana Payne is co-lead of the measurement section of this group. Surveys and interactive maps, workshop summaries and much more can be found here. 
Marine Social Sciences Network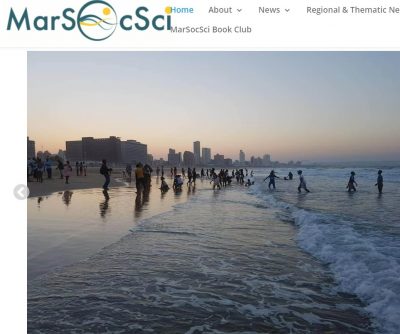 The Marine Social Sciences Network is an interdisciplinary and international network working to bring together a growing community and facilitate knowledge exchange between diverse stakeholders from across the marine and coastal sector.
Increasing awareness and understanding of the integral role that social sciences can have in management and decision making for our global seas and coastline is key. The Network is building a multidisciplinary community, facilitating collaboration and dialogue across the marine sciences, economics, the arts and humanities.
Ocean Literacy Research Abroad
Learn about Ocean Literacy research initiatives in Canada, the UK and Brazil, including national surveys that are informing policy and programming.
CTSG Funded Research
CT Sea Grant is funding a project led by Miriah Kelly of Southern CT State University, "Toward a Deeper Understanding of Human Connections with Ocean Environments: Ocean Identity as a Novel Construct, Research Instrument, and Assessment Tool."  Professor Kelly gave a presentation about the project at the 2022 UN Climate Change Conference in Egypt in November 2022. Learn more about the project here: https://seagrant.uconn.edu/research/.