The sustainable and resilient community extension educator team has put together a list of current and upcoming grant opportunities.
[Read More]
The Connecticut and New York Sea Grant programs announce a funding opportunity open to municipalities and community organizations to facilitate the hiring of grant preparation and writing support to assist with the development of a grant application for sustainable and resilience-focused projects.
[Read More]
Four Connecticut cities have joined a pilot project to boost community participation in climate change planning. Community activities in Bridgeport, New Haven, New London and Norwich are being led by CTSG and NOAA and will focus on climate risk communication and planning for community resilience.
[Read More]
Sustainable CT hosts programs on a variety of topics related to local sustainability, including grants, equity and public spaces.
[Read More]
Highlights from the Field
The Sustainable and Resilient Communities extension professionals held their first bi-state workshop in December 2022. Videos of the six sessions available.
[Read More]
Sustainable and Resilient Community Extension Educators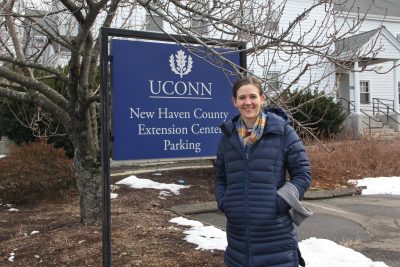 Deborah Abibou is a sustainable and resilient community extension educator for Connecticut Sea Grant and the EPA's Long Island Sound Study, working in collaboration with three colleagues based at New York Sea Grant. Abibou works in the western half of the state, from Greenwich to Branford and inland. The position for a sustainable and resilient community extension educator for the eastern half of the state, from Guilford to Stonington and inland, is currently vacant but is expected to be filled in the coming months.
Read more about the sustainable and resilient community extension educators: