The sustainable and resilient community extension educator team has put together a list of current and upcoming grant opportunities.
[Read More]
The Connecticut and New York Sea Grant programs announce a funding opportunity open to municipalities and community organizations to facilitate the hiring of grant preparation and writing support to assist with the development of a grant application for sustainable and resilience-focused projects.
[Read More]
CTSG and partners will host a free virtual workshop on resilience fundamentals on two dates: Sept. 19 from 7 to 8:30 p.m.; and Sept. 21 from 9:30 to 11 a.m. Attendees will learn about climate change projections and impacts, strategies for resilience planning, and local climate certification programs.
[Read More]
Four Connecticut cities have joined a pilot project to boost community participation in climate change planning. Community activities in Bridgeport, New Haven, New London and Norwich are being led by CTSG and NOAA and will focus on climate risk communication and planning for community resilience.
[Read More]
Sustainable CT hosts programs on a variety of topics related to local sustainability, including grants, equity and public spaces.
[Read More]
Highlights from the Field
On a sunny Saturday morning the Bridgeport community gathered at Knowlton Park for a "Let's Go Fishing!" event on Aug. 19. Residents of all ages angled into the art of fishing as part of a unique initiative to activate the waterfront and gather insights for the future "Sliver by the River" community waterfront park.
[Read More]
Sustainable and Resilient Community Extension Educators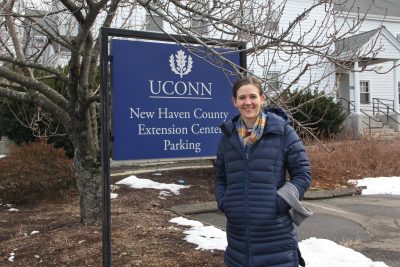 Deborah Abibou and Sarah Schechter are sustainable and resilient community extension educators for Connecticut Sea Grant and the EPA's Long Island Sound Study, working in collaboration with three colleagues based at New York Sea Grant.
Abibou works in the western half of the state, from Greenwich to Branford and inland. She is based at the New Haven County UConn Extension Center office in North Haven.
Schechter works in the eastern half of the state, from Guilford to Stonington and inland and is based at the Connecticut Sea Grant office at the UConn Avery Point campus in Groton.
Read more about the sustainable and resilient community extension educators: