CTSG funds research through our omnibus project selection process, as well as regional competitions, national awards, development projects and external grants. The National Sea Grant Library archives research and publications supported by Connecticut Sea Grant and the other 32 Sea Grant programs.
Access the National Sea Grant Library
The Connecticut Sea Grant College Program funded six research projects with a total value of $879,091 for the period of 2016 to 2018. The suite of competitively-selected projects was chosen to benefit both Long Island Sound and the coastal Connecticut communities that surround it. These projects together helped achieve objectives set out in the program's four thematic focus areas:

Healthy Coasts and Oceans

,

Safe Sustainable Fisheries and Aquaculture

,

Resilient Coastal Communities and Economies

, and

Environmental Literacy and Workforce Development.Previously Funded Research Projects (2016-2018)
Resilient Coastal Communities under Wind & Flood Hazards
Wei Zhang and Christine Kirchhoff of UConn's Department of Civil and Environmental Engineering, aimed to reduce coastal community vulnerabilities by evaluating and comparing trade-offs in residential home building designs for both wind and flood factors. New GIS-based resilience maps were produced to show multi-hazard effects to help communities plan and build appropriately to reduce vulnerabilities to extreme weather events and sea level rise. The towns of Fairfield and Milford, CT participated in the study. Click here for more info.
---
Public Support for Adaptation to Sea Level Rise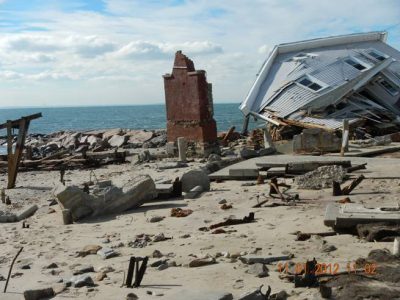 Stephen Swallow of the UConn Department of Agricultural and Resource Economics, led a multi-disciplinary team of investigators who surveyed Connecticut coastal residents to examine their preferences and values with respect to various measures to preserve coastal areas and resources in the face of sea level rise. They wanted to find out whether residents are more likely to support environmentally protective measures if they understand the value of ecosystem functions for public benefit. Results provided managers with insight into the alternatives and tradeoffs which are preferred, and how much residents are willing to pay for adaptation measures in coastal area to make communities stronger. Associate Investigators include James O'Donnell and Jennifer O'Donnell, UConn Marine Sciences, and Christopher Elphick and Eric Schultz, UConn Ecology and Evolutionary Biology. Click here for more info.
---
Nutrients and Bioaccumulation of Methyl Mercury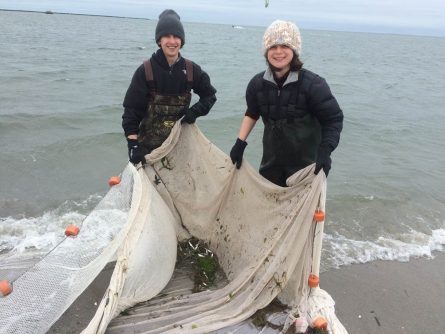 Robert P. Mason and Zofia Baumann of the UConn Department of Marine Sciences, examined mercury concentrations and methylation in water and sediments, and how it accumulates into marine fish and shellfish. They sampled multiple locations along the Connecticut coast that differ in mercury sediment concentration levels in an effort to explain how the nutrients (nitrogen and phosphorus) in coastal water bodies influence mercury methylation and accumulation in marine life.
---

Nutrient & Carbon Fluxes through Long Island Sound
Penny Vlahos and Michael Whitney, UConn Department of Marine Sciences, determined chemical budgets and fluxes of carbon and nitrogen in Long Island Sound; in other words, how much goes into the Sound and back out to the ocean, by what routes, and how fast. This information is essential to effectively manage water quality in the Sound. Future modeling of ecosystems that incorporates these data will inform water quality, restoration and preservation strategies.
---
Effects of Global Warming/Ocean Acidification
on Marine Plankton
Hans G. Dam, Hannes Bauman, and Michael Finiguerra. UConn Department of Marine Sciences, investigated the combined effects of warming waters and ocean acidification on a key species of copepod, Acartia tonsa. Copepods, small zooplankton, are the most abundant animals in the ocean and Long Island Sound, and are a primary food source for larger animals such as fish. Click here for more info.
---
Coastal Literacy in CT Schools
Michael Finiguerra, UConn Department of Ecology and Evolutionary Biology, and Rachel Gabriel, UConn Neag School of Education, brought together an educational researcher, a coastal scientist and high school teachers to develop and test a variety of education strategies to increase coastal literacy. Innovative teaching practices and factors found to be successful were used in historically low-performing schools to gauge their effectiveness in improving student learning outcomes. For more info, please visit http://coastalliteracy.uconn.edu
---
Previously Funded Research Projects (2014-2016)
Shrimp Expedition 2014 – Research on Invasive Shrimp
Shrimp are tasty and good for you, right? So why worry about invasive shrimp coming to our shores? The reason for concern is that such invasive species often thrive and compete with native species, sometimes even driving them out, and may further impact the prey species of the shrimp as well. Dr. James T. Carlton, a world-renowned expert on invasive species, led a team conducting dockside surveys to assess the spread and abundance of invasive non-native shrimp in the Northeastern United States. In the summer of 2014, with partial funding from the Northeast Sea Grant Consortium, Carlton and project coordinator Shannon Weigle launched Shrimp Expedition 2014, using floating docks at public and private marinas as sampling sites. Find out more
Connecticut Sea Grant, based at the University of Connecticut, funded four grants totaling $ 491,750 to researchers in Connecticut for the years 2014-2016. These grants funded research projects focusing on the ecosystems and natural resources of Long Island Sound and Connecticut's shoreline communities.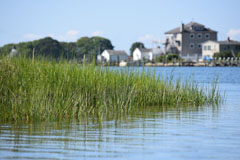 Shimon Anisfeld and his colleague Andrew Kemp at Yale University will investigate the ability of salt marshes to migrate upland as sea levels rise. Healthy marshes protect shorelines from storm impacts and serve as nursery habitat for many animals. Their successful migration will depend on many factors such as elevation, hydrology, soils, plants, and animals.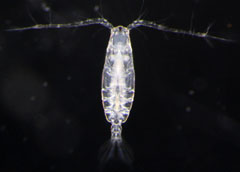 Hans Dam at the University of Connecticut's Department of Marine Sciences will examine how the zooplankton species Acartia tonsa might adapt evolutionarily to heat waves, which in the future may occur more frequently, last longer, and have higher peak temperatures. This species is a critical source of food for fish in Long Island Sound.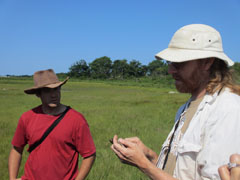 Chris Elphick at the University of Connecticut Department of Ecology & Evolutionary Biology will lead an assessment of Connecticut coastal property owners' attitudes and intentions towards rising sea levels. Elphick and colleagues will use the results to help managers integrate conservation management goals with what is important to coastal residents.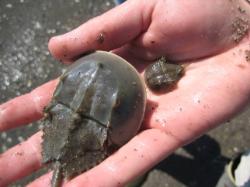 Mark A. Beekey and Jennifer Mattei in the Sacred Heart University Department of Biology will identify juvenile horseshoe crab nursery habitats along the Connecticut coastline and evaluate them for qualities essential to the species' growth and survival. The project will build on the educational and outreach activities of Project Limulus, an ongoing citizen monitoring effort for horseshoe crab populations. In addition to these research projects, Connecticut Sea Grant funds a variety of regional social science projects, including the recent Coastal Storm Awareness Program with New York and New Jersey Sea Grant.