The Connecticut Sea Grant Education Program provides professional learning in the form of training and workshops for K-12 educators, curriculum consultation, resources and publications, links among educators and scientists, and opportunities for educators, K-12 students and undergraduate/graduate students.
Do you know the 7 Essential Principles
of Ocean Literacy? Find out
Education Projects
Long Island Sound Mentor Teacher (LISMT) Program: Connecticut Sea Grant is presently seeking teams of teachers from each of the following grade level subsets: K-2, 3-5, and 6-8. Each grade level specific team will work together to plan a professional development session for their peers. There is funding for each team to provide an outdoor component (shore or boat excursion) as part of the session. Each LISMT receives a stipend and lots of Long Island Sound resources for you and your classroom!
Connecticut Environmental Literacy Plan: Connecticut is in the process of revising its Environmental Literacy Plan. (The 2015 plan can be found here.) The project is led by the Connecticut Outdoor and Environmental Education Association (COEEA), which notes within the United States and in Connecticut, the need for comprehensive environmental education has never been greater. The health of Connecticut's future depends on its citizens being environmentally literate and able to make informed choices about environmental issues such as water use, air quality, and land development. Connecticut, along with many of its sister states and conservation organizations, is working with the federal government to create Environmental Literacy Plans (ELP) to prepare today's youth to become tomorrow's stewards of the environment. For more information and to sign up to be involved in this effort, visit the COEEA web site.
Nab the Aquatic Invader! "Nab the Aquatic Invader! is a fun way to learn about aquatic invaders. By using this site you can check out lots of unusual species that create real problems in the Atlantic, Pacific, Gulf, and Great Lakes regions. There are many ways that this site can help you with your class projects. By doing the activities and playing the games on this site, you will learn about nature and be inspired to help the environment by "nabbing" these pesky critters and seeing that you can make a difference.
The CTSG Undergraduate Research Fellowship seeks to broaden participation of underrepresented/underserved students in marine and coastal professions by providing early career experience, training and mentorship. Applications due on March 13.
[Read More]
The Coastal and Marine Economics Graduate Fellowship Program was established to enable selected graduate students to conduct independent fundamental or applied economic research for one year under the guidance of their academic advisor. Applications are due on May 5.
[Read More]
CTSG is accepting Knauss Fellowship applications from graduate students for the one-year period anticipated to begin February 1, 2024. This opportunity provides a unique educational experience to students interested in ocean and coastal resources and in the national policy decisions affecting them.
[Read More]

For More Information
Contact:
Diana Payne, Education Coordinator
Publications
View our education publications.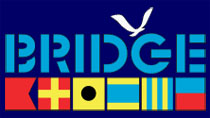 The Bridge is a growing collection of the best marine education resources available on-line.

June 8 is World Ocean Day. Visit the website to learn how to get involved.  Resources available for download.