The Bridge
The Bridge is a growing collection of the best marine education resources available on-line. It provides educators with a convenient source of accurate and useful information on global, national, and regional marine science topics, and gives researchers a contact point for educational outreach. Resources are organized as indicated on the sidebar on the left side of the screen.
United Nations Decade of Ocean Science for Sustainable Development
The United Nations Decade of Ocean Science for Sustainable Development is providing a common framework to ensure that ocean science can fully support countries' actions to sustainably manage the ocean and more particularly to achieve the 2030 Agenda for Sustainable Development. In the United States, the official launch took place in 2021.
The UN Decade of Ocean Science for Sustainable Development was born out of the recognition that much more needs to be done to reverse the cycle of decline in ocean health and create improved conditions for the sustainable development of the ocean, seas and coasts. The Decade of Ocean Science offers a framework to strengthen connections and weave partnerships between all communities working to study, conserve and sustainably use the ocean and its resources. Through stronger international cooperation, the Decade will bolster scientific research and innovative technologies to ensure science responds to the needs of society:
A clean ocean where sources of pollution are identified and removed
A healthy and resilient ocean where marine ecosystems are mapped and protected
A predictable ocean where society has the capacity to understand current and future ocean conditions
A safe ocean where people are protected from ocean hazards
A sustainably harvested ocean ensuring the provision of food supply
A transparent ocean with open access to data, information and technologies
An inspiring and engaging ocean where society understands and values the ocean
A brochure about the UN Decade of Ocean Science for Sustainable Development can be found here.
To learn more, visit: https://www.oceandecade.org/
Summer internship opportunities for undergraduates and high school students
Find out about summer summer internship opportunities in marine and fisheries science for undergraduates and high school students on NOAA's Student Opportunities page. Many application deadlines come up in February.  A comprehensive list can be found at: https://www.noaa.gov/education/opportunities/student-opportunities.
Teaching about the World Ocean

June 8 is World Ocean Day.  The World Ocean Day website has information about getting involved as well as resources available for download.
A healthy world ocean is critical to our survival. Every year, World Ocean Day provides a unique opportunity to honor, help protect, and conserve the world's ocean. The World Ocean is very important:
It generates most of the oxygen we breathe
It helps feed us
It regulates our climate
It cleans the water we drink
It offers a pharmacopoeia of medicines
It provides limitless inspiration!
Teaching about Hurricane Sandy
The Science Education Resource Center at Carleton College has put together a very timely list of resources and links for teaching about coastal hazards such as SuperStorm Sandy: Click here.
Sound Facts: Fun Facts about Long Island Sound Second Edition

By M. Van Patten, M. Moore and E. O'Muin
This fun and colorful 80-page soft-cover book offers infographic cartoons about our favorite estuary's biology, geology, chemical and physical parameters, and environmental concerns. It's a compilation of features developed as a collaboration between Connecticut Sea Grant and The Day newspaper. Reissued in 2009, this edition contains some new info-graphics such as moon jellies, starfish, and nitrogen in the Sound. It includes a math exercise to compute how much gold in found in the waters of the Sound. Price is $5.00 per copy plus postage/shipping. Contact Michelle MarcAurele to order. Publication Number CTSG-09-17.
The authors have given permission for a pdf of the booklet to be made available for download. It is available here.
Living Treasures and Tesoros Vivientes: the plants and animals of Long Island Sound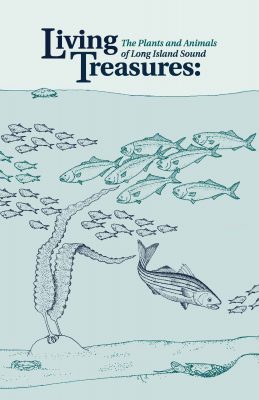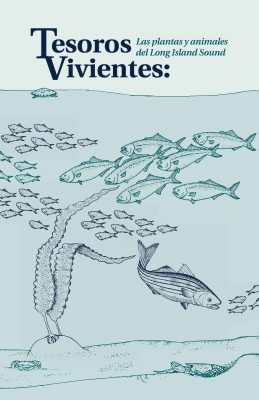 By Lisa Wahle and Nancy Balcom
An updated version of Connecticut Sea Grant's old favorite, Living Treasures: The Plants and Animals of Long Island Sound has beautiful line drawings and updated expanded text. Reading level: middle school. Also in Spanish translation: Tesoros Vivientes: Las plantas y animales del Long Island Sound. Single copies are FREE! Shipping charges apply for bulk orders. To receive a copy, contact: Michelle MarcAurele at: michelle.marcaurele@uconn.edu.
A downloadable pdf of Living Treasures can be accessed here.
A downloadable pdf of Tesoros Vivientes can be accessed here.
Additional Links:
AAAS Benchmarks for Science Literacy
Connecticut Department of Education
Connecticut Science Teachers Association
Eisenhower National Clearinghouse
GLOBE Program
JASON Project
MARE (Marine Activities, Resources, and Education
Marine Science Careers
Nab the Aquatic Invader
National Marine Educators Association
National Science Education Standards
National Science Teaching Association
NOAA Education Resources
NOAA Ocean Explorer – Education
NOAA Teacher at Sea Experience
Ocean Literacy
SeaWifs Teacher Resources
Sound in the Sea – Teacher Resources and Web Links
Southeastern New England Marine Educators
The Bridge Teacher Center
UN Atlas of the Oceans
US EPA Environmental Education Resources