The official magazine of the Connecticut Sea Grant College Program. Biannual illustrated magazine with feature articles and brief items on coastal and marine topics with an emphasis on Long Island Sound and related activities at the University of Connecticut and beyond.
Join our Wrack Lines listserve or get on the mailing list for a print copy
To get email notification when the new issue of Wrack Lines is available electronically, send your email address here. To receive a free print copy, send your address here.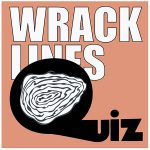 Take the Wrack Lines Quiz and you could win a prize!
Notice to educators
Wrack Lines articles may be downloaded and printed for educational purposes, with source acknowledgement, but please drop us a note! We want to know how, why and where our publications are used. Thank you!
Support Wrack Lines
Wrack Lines is a free magazine, available in both print and online. We appreciate donations from our readers to help us continue producing the printed version, which is distributed to libraries and citizens. Please send your donation via check or money order to Connecticut Sea Grant, 1080 Shennecossett Road, Groton CT 06340-6048. Thanks!