Aquaculture
Introduction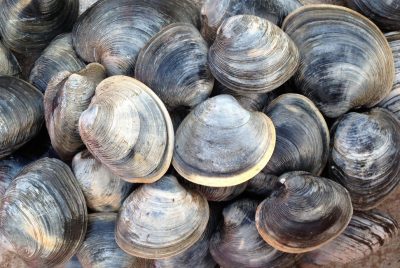 Connecticut is a major producer of shellfish, including oysters and northern quahog clams, valued at greater than $30 million. A large percentage of this product is farm-raised. There are 46 companies that employ greater than 300 individuals. The vast majority of the industry continues to practice traditional bottom cultivation relying on natural seed production or seed gathered from natural beds. However, a growing number of operations are utilizing aquaculture gear such as cages, bags and longlines that are placed in the water column. Several hatcheries in Connecticut and New York supply shellfish seed to these companies. A number of other species are being studied for commercial viability including kelp (seaweed), blue mussels and bay scallops. The state has several freshwater fish farms that grow trout and baitfish for stocking ponds.
To learn more about aquaculture in Connecticut, visit: shellfish.uconn.edu
Vision: thriving coastal ecosystems and communities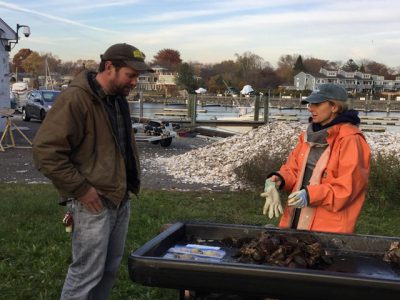 The goal of the Connecticut Sea Grant Aquaculture Program is too contribute to the expansion of environmentally- and economically-sustainable marine aquaculture industries in Connecticut and the Northeast. The program aims to address needs of a growing industry through an integrated program of research, outreach and education that reduces impediments to a sound business; improves profitability; manages aquatic health; addresses issues of conflict and policy; and assesses impacts of aquaculture on the environment. Extension staff conduct collaborative research projects with industry, work with university scientists on applied research, partner with resource managers to streamline the aquaculture permitting process, assist municipal commissions with shellfisheries management efforts, offer technology and information transfer seminars and provide one-on-one consultations for prospective industry members. Staff members also offer educational programs to community groups and school systems on aquaculture and shellfisheries topics. Its is our belief that by educating the public about the role that aquaculture plays in our food supply, economy and society, aquaculture will gain greater acceptance and growth will be encouraged.
Fisheries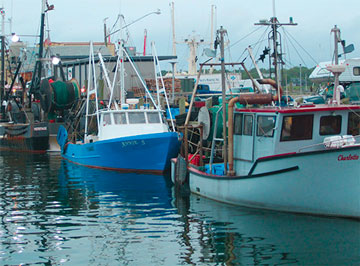 Connecticut's commercial fishermen harvest the waters of both Long Island Sound and the Atlantic Ocean, landing catches of sea scallops, silver hake, squid, flounder, butterfish, American lobsters, scup, and monkfish, among other species. In 2006, the ex-vessel value of the commercial wild harvest (excluding clams and oysters which are farmed) was worth more than $16 million. With the exception of sea scallops, commercial landings have largely declined over the past decade due to a number of factors, including the lobster mortality event affecting a significant portion of the Long Island Sound resource in 1999 and increasingly restrictive fisheries management measures put in place to promote the re-building and sustainability of several commercially-important fish species. These factors, coupled with rising operational costs, reduced waterfront access and adequate dock space, and severe development pressures, have reduced the number of full-time and part-time commercial fishermen in Connecticut. Nonetheless, commercial fishing has been, and will continue to be an important part of Connecticut's maritime history and economy.
The town's commercial fishermen and Gambardella's Wholesale Seafood hosted the first-ever open house on the town dock on July 28, inviting the public to learn about and sample seafood caught by local fishermen. The Saturday event was a prelude to the annual Blessing of the Fleet the next day.
[Read More]
The Spring-Summer 2018 issue of Wrack Lines focuses on local seafood, from newly abundant species to old favorites. Read how restaurants and markets are offering local seafood, availability of fish, shellfish and kelp, the experiences of a first-time clammer and some great recipes by Connecticut chefs.
[Read More]
Chris Fowler knows the perils of his occupation as a commercial fisherman, consistently ranked one of nation's the most dangerous jobs. So a year after he began catching skate, whiting, squid, flounder and fluke from a vessel docked in New London, he took a day off from fishing to equip himself with the skills he needs to survive an accident at sea.
He was one of 36 commercial fishermen and state agency personnel who took part in a daylong safety and survival training course on May 10 sponsored by Connecticut Sea Grant, Fishing Partnership Support Services, the U.S. Coast Guard and UConn-Avery Point.
[Read More]

For More Information
Aquaculture Resources
Publications
Fisheries Resources