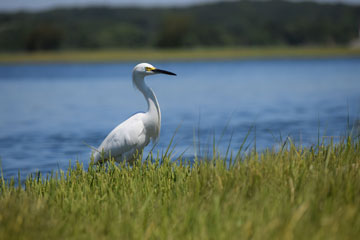 Long Island Sound is an estuary with almost the entire state of Connecticut within its watershed. Wise use and conservation of our coastal and inland resources is critical to the health of Long Island Sound. The Connecticut Sea Grant Extension Program supports management efforts to conserve and protect ecosystems, habitats and living resources within Connecticut and the northeastern United States. Support of management efforts includes conducting research, education and outreach in coastal land use and community planning, habitat restoration and enhancement and water quality. Fostering collaborative partnerships with federal, state, and local municipal agencies as well as conservation groups is key to coastal resource management in Connecticut.
Priority Coastal Habitats:
Connecticut Sea Grant partners with many federal, state and local organizations to manage and protect priority habitats within and along Long Island Sound. These habitats include: coastal and island forests, bluffs, beaches and dunes, estuarine embayments, tidal wetlands, freshwater wetlands, coastal grasslands, intertidal flats, rocky intertidal zones, riverine migratory corridors, submerged aquatic vegetation beds, and shellfish reefs. Connecticut Sea Grant supports research, outreach and education efforts focused on these habitats and the species associated with them. You can learn more about these habitats and management issues including the impacts of climate change and invasive species at ADAPT CT Habitats.
A step by step guide to developing management plans for these priority habitats can be found at ADAPT CT Open Space Planning.
Living Shorelines
In Connecticut, the term "living shoreline" is used to mean a shoreline erosion control management practice which also restores, enhances, maintains or creates natural coastal or riparian habitat, functions and processes. Coastal and riparian habitats include but are not limited to intertidal flats, tidal marsh, beach/dune systems, and bluffs. Living shorelines may include structural features that are combined with natural components to attenuate wave energy and currents.
Watch video presentations of our Living Shorelines Workshop with UCONN CLEAR here
Shoreline Homeowners: Try this tool to learn how to beautify your coastal property by planting the right in the right place, while reducing erosion. Click here for more information on why it is important to plant coastal riparian corridors?

Another tool for those with property along the shore is: Connecticut Beaches and Dunes: A Hazard Guide for Coastal Property Owners.
For those looking to learn about the ecology and plants of salt marshes, check out Salt Marsh Plants of Long Island Sound.  Copies can be ordered by filling out the form.
Also available: Connecticut's Sandy Shores: An Introduction to the Geology, Ecology, Plants and Animals.
Additional Resources
Publications
View our coastal habitat publications.
The public is invited to a book launch and author talk on "Connecticut's Sandy Shores: An Introduction to the Geology, Plants and Animals" at 4 p.m. on Nov. 29 in Room 103 of the Lowell P. Weicker Jr. Building at UConn Avery Point.
[Read More]
Three new extension educators have joined Connecticut Sea Grant and UConn Extension this summer, charged with different facets of outreach and partnership with communities and residents to enhance resilience, stewardship and appreciation of Long Island Sound and its watershed.
[Read More]
The Long Island Sound Mentor Teacher program of Connecticut Sea Grant and the Long Island Sound Study will host a Long Island Sound Ecosystems Workshop from 9 a.m. to 4 p.m. Sept. 9 at Hammonassett Beach State Park in Madison.
[Read More]