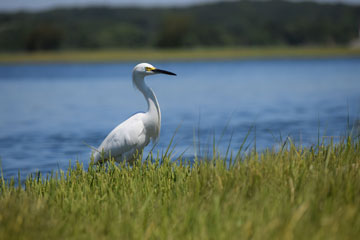 Long Island Sound is an estuary with almost the entire state of Connecticut within its watershed. Wise use and conservation of our coastal and inland resources is critical to the health of Long Island Sound. The Connecticut Sea Grant Extension Program supports management efforts to conserve and protect ecosystems, habitats and living resources within Connecticut and the northeastern United States. Support of management efforts includes conducting research, education and outreach in coastal land use and community planning, habitat restoration and enhancement and water quality. Fostering collaborative partnerships with federal, state, and local municipal agencies as well as conservation groups is key to coastal resource management in Connecticut.
Living Shorelines
In Connecticut, the term "living shoreline" is used to mean a shoreline erosion control management practice which also restores, enhances, maintains or creates natural coastal or riparian habitat, functions and processes. Coastal and riparian habitats include but are not limited to intertidal flats, tidal marsh, beach/dune systems, and bluffs. Living shorelines may include structural features that are combined with natural components to attenuate wave energy and currents.
Watch video presentations of our recent Living Shorelines Workshop with UCONN CLEAR here
Shoreline Homeowners: Try this new tool to learn how to beautify your coastal property by planting the right in the right place, while reducing erosion. Click here for more information on why it is important to plant coastal riparian corridors?

Additional Resources
Oysters, sturgeon, salt marshes, stormwater and possible impacts of East River storm surge barriers will be the subjects of six two-year research projects being funded by Connecticut Sea Grant starting in 2020. The six projects will focus on different aspects of the ecosystem of the Long Island Sound watershed.
[Read More]
Connecticut Sea Grant Director Sylvain De Guise is interviewed for a segment of Comcast Newsmakers.
[Read More]
Lessons learned from the 1999 lobster die-off in Long Island Sound will provide the foundation for Connecticut Sea Grant's contribution to a major Northeast collaboration to enhance understanding of potential changes to the nation's primary lobster fishery in the Gulf of Maine and Georges Bank.
[Read More]