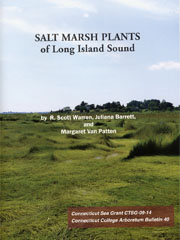 WINNER of 2010 APEX AWARD of EXCELLENCE
R. Scott Warren, Juliana Barrett, and Margaret Van Patten
This 38-page guide provides an overview of salt marsh habitats in the Long Island Sound region, and includes 23 individual plant descriptions with color photos and line drawings. It has a centerfold depicting marsh habitats and the location of salt marsh plants within the marsh. Single copies are FREE to K-12 educators (write on letterhead); please include $2.00 postage per copy. for others, $5.00 per copy plus postage. Please make checks payable to Connecticut Sea Grant. Call 860-405-9128 for bulk orders, and we will estimate shipping charge.
Publication Number CTSG-09-14 and Arboretum Bulletin 40. Contact: Michelle MarcAurele to order.
---