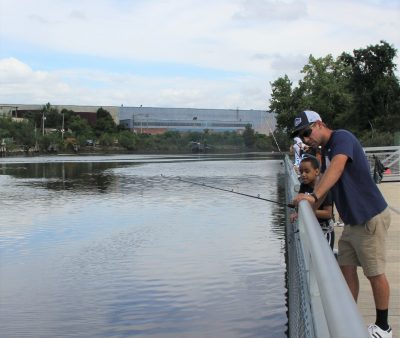 By Deb Abibou
On a sunny Saturday morning the Bridgeport community gathered at Knowlton Park for a "Let's Go Fishing!" event on Aug. 19.
Residents of all ages angled into the art of fishing as part of a unique initiative to activate the waterfront and gather insights for the future "Sliver by the River" community waterfront park on the Pequonnock River. CT Sea Grant, Groundwork Bridgeport, and the Trust for Public Land co-hosted this engaging demonstration.
More than 20 enthusiastic families embraced the opportunity to learn fishing fundamentals from skilled instructors certified by the Connecticut Department of Energy and Environmental Protection. Casting lines, baiting hooks, and reeling in excitement, attendees gained essential knowledge for an aquatic adventure. As a token of this enriching experience, each family received a complimentary fishing rod, tackle box, net and bucket to embark on their own fishing quests.
Beyond the thrill of the water's edge, the event served as a vital forum for community input. A sneak peek of the 30% concept design for the forthcoming Sliver by the River Park was unveiled. Attendees were urged to lend their voices and dreams to the shaping of this space. Discussions ignited visions of green infrastructure, climate resilience and a welcoming haven for all.
CT Sea Grant's support helped make this event a reality, with funding from NOAA. Our commitment to fostering participation from vulnerable communities in resilience conversations enriched the event's impact.
Photos by Judy Benson / CT Sea Grant
---