Three new extension educators have joined Connecticut Sea Grant and UConn Extension this summer, charged with different facets of outreach and partnership with communities and residents to enhance resilience, stewardship and appreciation of Long Island Sound and its watershed.
The new staff, who are based at CT Sea Grant's main office at the UConn Avery Point campus in Groton, bring experience as science communicators and educators grounded in climate adaptation and resilience, water quality, environmental literacy and conservation. All three are natives of southern New England who have applied their skills to projects in the region.
The three are:
Owen Placido, assistant extension educator, nature-based resilience. Placido fills a position created after the retirement of Juliana Barrett, now extension educator emerita and coastal habitat specialist.
Sarah Schechter, assistant extension educator for sustainable and resilient communities. Schechter will serve Eastern Connecticut, while her counterpart Deb Abibou serves Western Connecticut, addressing community resilience priorities of the Environmental Protection Agency's Long Island Sound Study in collaboration with their counterparts at New York Sea Grant.
Maggie Cozens, Long Island Sound outreach coordinator. Cozens will be spearheading community outreach and engagement activities for the EPA's Long Island Sound Study in collaboration with her counterparts at New York Sea Grant and NEIWPCC, an interstate commission focused on water quality.
"I am so impressed with the quality of the candidates we were able to recruit in these positions," said Sylvain De Guise, director for Connecticut Sea Grant. "We can't wait to see how they put their talents to work and engage with our partners for the benefit of our stakeholders."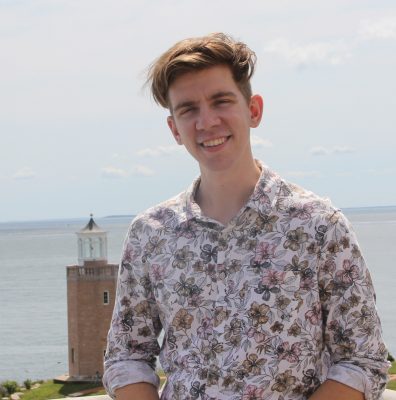 Placido, 24, is a Rhode Island native who recently completed his master's degree in environmental science at the University of Rhode Island (URI).
"This feels like the type of work I want to be doing as a scientist," said Placido, whose graduate research focused on wastewater problems in coastal communities. "I'm excited to be here as a resource to help communities with those challenges, and also to understand that every situation is so different there is no one fix for all."
Schechter, 23, grew up in Connecticut and worked for CT Sea Grant on a summer internship with the Climate Corps, a UConn course taught by Barrett that focuses on climate change impacts in local communities.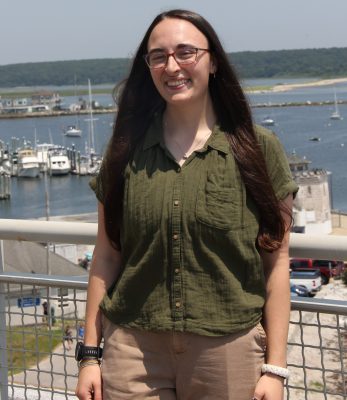 "Growing up, I saw how the actions of one person can impact an entire ecosystem, when I saw all the problems with invasive plants in the lake my grandparents lived on," said Schechter, who is also a recent URI environmental science master's program graduate. "I also realized that there are a lot of people left out of the conversation, so I really want to focus on inclusivity with this role."
Cozens, 31, is also a Connecticut native. She has been working for the Maine Coastal Heritage Trust for the past 1½ years, the most recent of several positions in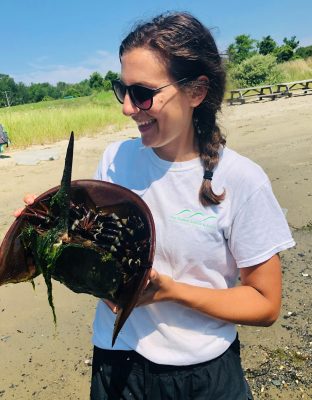 environmental work that drew on her graduate degree training in environmental science at the University of North Carolina-Wilmington and undergraduate experiences in the natural sciences. One of the most rewarding of these was as an AmeriCorps volunteer at New England Science and Sailing, a marine science education program for youth based in southeastern Connecticut.
"Coastal Connecticut was really where that passion was cemented, working with kids and forging connections between people and places," she said. "I'm so excited to be back home in Connecticut and to take the experiences that I've had and use them to help protect a place I love."
Associate Director Nancy Balcom said Placido, Schechter and Cozens are great complements to the Sea Grant extension program who will further broaden the positive impact CT Sea Grant and UConn Extension have on the state.
"We are excited to have Sarah, Owen and Maggie join us," Balcom said. "They bring boundless enthusiasm and new perspectives and experiences to our Sea Grant team which can only enhance our efforts as we work together and in collaboration with other partners throughout the state to address the marine and coastal-related needs of Connecticut communities and residents."
More information: Judy Benson, communications coordinator: judy.benson@uconn.edu; (860) 287-6426
---