CT Sea Grant Arts Awards 2017 Arts Support to New London Artists Diane Barceló and Ashby Carlisle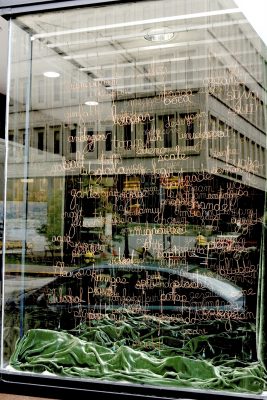 Connecticut Sea Grant announced two winners of its 2017 Arts Support Awards Program. This annual $1000 competitive award, selected by an external panel of art experts, is given to artists whose work supports Sea Grant's mission of enhancing understanding and awareness of Connecticut's marine coastal environment and maritime heritage.
Diane Barceló and Ashby Carlisle, both New London residents, are this year's co-recipients.
The artists' project, "They Came by Water", is a sculptural installation using copper wire to spell the words associated with the concept of water from the different languages of New London's population during the height of the whaling industry in the eighteenth and nineteenth centuries.
"In the mid-19th century, New London was the most diverse city in the United States. People from all around the world converged in this bustling port town to participate in the whaling industry. The coexistence of their many languages is the inspiration for our sculptural installation," Barceló and Carlisle explained in their application. The words formed out of copper, suspended in layers, creates a "word matrix" which "dynamically interacts and overlaps to imply intersections and intermingling of diverse languages and people."
The installation was included in the Creatinova festival in New London on June 9 and 10.   The work was also on display at the Marquee Gallery on State Street in the summer of 2017.  The artists envision that their work with continue to grow throughout the year, and hope to add a sound component that "includes the sound and rhythm of the sea layered against the oral languages of Native Americans and Africans speaking/singing the water words that are in the installation."
Barceló earned her M.F.A. in Sculpture at the University of Maryland and a B.F.A. at the Corcoran School of Art in Washington, D.C.  She is an adjunct art faculty member at the University of Connecticut and at Mitchell College.
Ashby Carlisle earned a B.A. degree in studio art from Beloit College, Wisconsin, an M.S. degree in art education from Connecticut State University, and did course work in the MFA program at the University of Washington, Seattle.  Both artists have exhibited widely.
CT Sea Grant Awards 2016 Arts Support to New Haven Artist, Anastasiia Palamarchuk
Anastasiia Palamarchuk, a graduate student in Yale University's Fine Arts program, was the winner of the 2016 Arts Support Awards grant. The annual $1000 competitive award, selected by an external panel of art experts, is awarded to an artist whose work supports Sea Grant's mission of ocean and coastal awareness.
For her project, Palamarchuk researched and created a video to tell the amazing story of Madeline Blair, a Connecticut native who stowed away on the Battleship Arizona in 1924 in order to travel to Los Angeles. The project built upon her graduate project with Rebecca Sittler, a professor at California State University Long Beach, "Seafaring Women." The goal was to shed light on women's role in seafaring history, particularly where women have gone to sea as pirates, stowaways, explorers, or disguised as sailors. The gallery below shows some of the work Palamarchuk created for her project.
CT Sea Grant Awards 2015 Arts Support to New York Artist, Tyler McPhee
August 25, 2015 Groton, CT–Connecticut Sea Grant at the University of Connecticut Avery Point campus announced today the winner of its 2015 Arts Support Awards Program. This annual $1000 competitive award, selected by an external panel of art experts, is awarded to an artist whose work supports the Sea Grant mission of ocean and coastal awareness. Tyler McPhee of Brooklyn, New York is the 2015 recipient. "Those who have plowed the ocean…" is the title of his project concept, which will be a video installation to be filmed in the maritime environment of Fisher's Island, New York, situated between Connecticut and New York.
The film takes inspiration from a quote by Simon Bolivar, All those who have served the revolution have plowed the sea. "The quote reminds me of any sort of struggle to create a better future, whether that is the political future of one's country and continent, like Bolivar, or the desire to gain a greater understanding and kinship with the environment, said McPhee."
McPhee plans to work with a farmer and horse team from Connecticut (hopefully from a salt water farm) who will act as the protagonists of the short poetic film. It will feature the narrative of their actions moving from stable, to estuary to tidal zone engaging the teams' plow to the water. "This ridiculous endeavour is meant to highlight the struggle for knowledge and progress towards understanding the environment around us." Mc Phee writes, "The depiction of three different zones of the maritime environment is to underscore the significance of the coastal environment to our lives.." The filming of this project would take place during the early fall on Fisher's Island in cooperation with the Lighthouseworks Artist Residency program. Examples of Mr. McPhee's art can be seen on his website (click here).
Carla Goldberg Receives CT Sea Arts Support Grant 2014
Carla Goldberg of Nelsonville NY received the 2014 Arts Support Award. Goldberg's proposal, "Memory Sculptural Drawings of Connecticut's Coastal Waters," was reviewed and selected by an independent panel of artists in a competitive process. The artist received a $1,000 award to create a series of sculptural drawings of Long Island Sound waters from memories of her visits to various shore locations along the Connecticut coast. See this artist's work (click here).
CT Sea Grant Announces Arts Award Recipients 2013
Two artists have been selected to receive up to $1000 for their projects this year.
Artist Samuel C. Ekwurtzel of New London, Connecticut was selected for his project "On the Beach," a multi-part exhibition of video and sculptural works that seeks to capture the dynamic nature of the coast. One part of the installation pairs monumental sculptures of post-modern engineering forms with traditional wooden vessels. Another component is comprised of videos; the first showing a jazz drummer playing a composition synchronized with the rhythm of waves crashing on the beach. The other is a documentary following a New London, Connecticut-based monkfishing vessel on an offshore fishing trip. The exhibition, when completed, will be presented at Real Art Ways Gallery in Hartford.
The second project selected supports a movie by artist Jacob Steinberg of Greenwich, Connecticut. "Osprey," is a high quality natural history documentary which follows a breeding pair of osprey in Greenwich. The grant funds will be used to purchase equipment needed to complete the video production. The story of the osprey captured in the film provides an example of a conservation success, the restoration of an iconic species, once threatened with extinction due to the indiscriminate application of biocides such as DDT. Watch a trailer of the movie (click here).
Art Support Recipients Selected in 2012
Sculptor Gar Waterman's video project entitled "A Slug Story" (Long Island Sound Nudibranch)" was selected to receive a $1,000 grant. This project will feature the creation of a short video documenting the carving of a sculpture of a Long Island Sound native nudibranch, from rough block of stone to the finished sculpture shown here. Waterman is from New Haven. Update: See the amazing video!
The second project selected for funding, for which $600 was awarded, is a proposal for illustrating a children's book called "Aqua-Marine: Sea Life in Long Island Sound". The artist is Lynn Stephens Massey of Norwalk. She specializes in watercolors. Update: Massey is seeking a publisher.