One of three sites in Long Island Sound or a fourth on the lower Connecticut River will soon be chosen for nomination as a National Estuarine Research Reserve (NERR).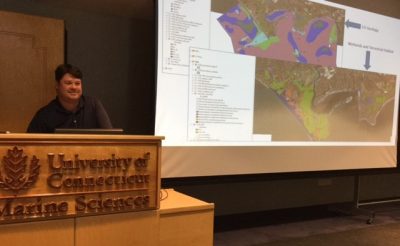 The latest step in a process that began earlier this year took place on Aug. 17, when about 20 experts from academia, state agencies and environmental groups came together at the University of Connecticut's Avery Point campus. The project is being led by the state Department of Energy and Environmental Protection, in coordination with UConn and Connecticut Sea Grant.
"We want to submit a final nomination package to NOAA by the end of December or early January," Kevin O'Brien, DEEP environmental analyst who led the meeting, told the group.
The Connecticut site chosen would join a national system of 29 reserves designated for research, monitoring, education and increased protection. Run as a partnership of the National Oceanic and Atmospheric Administration and the states, NERR sites exist in all coastal states except Connecticut and Louisiana.  About 1.3 million acres are currently part of NERR sites in 20 coastal and two Great Lakes states.
During the meeting, the group reviewed the detailed scoring criteria and initial scores given on the assets the four sites: one each in the western, central and eastern Sound, and the Connecticut River from Haddam Neck to the mouth.
Over the next month, the group will complete scoring of the sites, assessing their environmental, research, stewardship, educational and management values, and write a draft nomination report by early fall for the chosen site.
A public informational meeting on the selected site and the importance of the NERR program to Connecticut will be scheduled for late October to early November. That will be followed by a public comment meeting in late November and an opportunity for the public to submit written comments.
The four sites under consideration are:
Western Long Island Sound Region from Darien to Milford, encompassing state and federal properties including the Norwalk Islands, Great Meadows, the Milford Point Unit of the Stewart B. McKinney National Wildlife Refuge, plus Sherwood Island State Park and Wheeler Wildlife Area.
Central Long Island Sound Region from Madison to Westbrook, including Hammonasset Beach State Park/Natural Area Preserve, the Hammock River Wildlife Management Area and Duck Island Wildlife Area.
Eastern Long Island Sound Region from Waterford to Stonington, including Bluff Point State Park/Natural Area Preserve/Coastal Reserve, Haley Farm State Park and the Barn Island Wildlife Management Area.
Connecticut River Region from Old Saybrook and Old Lyme to Haddam Neck, encompassing the upper freshwater component including Haddam Neck Wildlife Area and Machimoodus State Park; and the lower brackish component including the Ferry Point Wildlife Area, Great Island Wildlife Area, Lord Cove Wildlife Area, Nott Island Wildlife Area and Ragged Rock Creek Wildlife Area.
For information, visit: www.ct.gov/DEEP/NERR, or the most recent issue of Sound Outlook: http://myemail.constantcontact.com/Sound-Outlook---June-July-2017.html?soid=1104335014923&aid=fdnOdhO1jjc; or contact Kevin O'Brien at: kevin.obrien@ct.gov.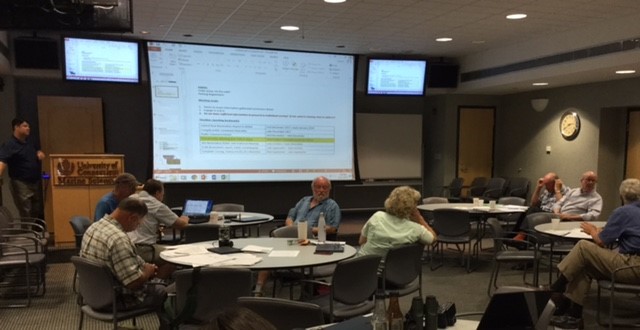 Group discusses the next steps in nominating a NERR site in Long Island Sound during a meeting on Aug. 17, 2017, at UConn Avery Point. (photo by Judy Benson / Connecticut Sea Grant)
---