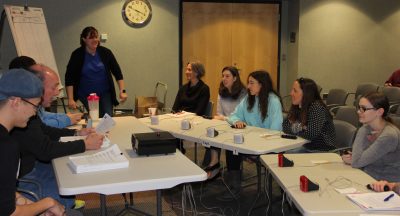 How the ocean influences the weather, including severe events such as hurricanes and floods, will be the theme of the 21st annual Quahog Bowl academic competition for high school students at UConn's Avery Point campus from 9 a.m. to 5 p.m. Feb. 3.
The theme, "Our Ocean Shaping Weather," is especially timely this year after hurricanes Harvey, Irma and Maria. The fast-paced contest will challenge participants to answer questions about air-sea dynamics, the relationships between weather and ocean conditions and currents, the technologies used to predict global climate patterns, how impacts of severe weather events can be lessened and how sea ice levels are affected by climate change, among other topics.
The Quahog Bowl is the CT/RI regional competition of the National Ocean Sciences Bowl, a quiz-bowl style academic competition that tests teams of students nationwide in ocean-related topics across the disciplines of biology, chemistry, policy, physics and geology. This interdisciplinary science education program of the Consortium for Ocean Leadership was created to build the next generation of scientists, academics and leaders by educating them in timely and relevant ocean science topics. Sponsors of the NOSB include the National Oceanic and Atmospheric Administration (NOAA), the Office of Naval Research (ONR), and the National Aeronautics and Space Administration (NASA), along with private corporations, non-profit groups and private donors. Connecticut Sea Grant, a partnership of NOAA and UConn based at Avery Point, organizes and hosts the annual Quahog Bowl regional competition, led by Diana Payne, CT Sea Grant's education coordinator.
Winning teams from the regional bowls will compete in the national finals April 19 – 22 in Boulder, CO. Last year's winning team of the Quahog Bowl, from Ledyard High School, will be returning this year to defend its title against 12 other Connecticut teams and at least two from Rhode Island.
Participating Connecticut teams in the 2018 Quahog Bowl are: Canton High School; Coginchaug Regional High School in Middlefield; E.O. Smith High School in Storrs; Glastonbury High School; Ledyard High School; Marianapolis Preparatory School in Thompson; the Science and Technology Magnet High School of Southeastern Connecticut, in New London; Norwich Free Academy; Plainville High School; Southington High School; University High School of Science and Engineering in Hartford; Waterford High School; and Woodstock Academy. From Rhode Island, teams from Cranston High School East and Narragansett High School are confirmed participants.
The competition will take place in the Academic Building at Avery Point.
Contact: Communications Coordinator Judy Benson
---