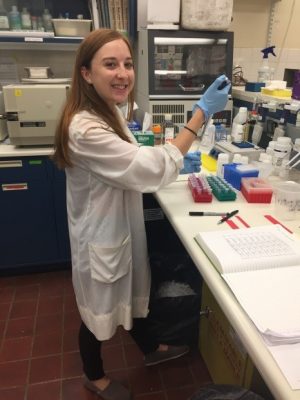 By Kristen Jabanoski
Every summer since 2005, between 120 and 150 college students have gained practical experience in the science, research, technology, policy, management and education fields they're studying by working at NOAA and partner labs and offices throughout the country.
In 2017, three of the 10-week paid internships available through the Ernest F. Hollings Undergraduate Scholarship program went to students from Connecticut universities. A fourth Hollings Scholar came from a college in Tennessee for an internship at the National Oceanic and Atmospheric Administration's fisheries lab in Milford.
For Connecticut Sea Grant, which is one of 33 Sea Grant programs sponsored by NOAA, the Hollings Scholarship represents one of the many opportunities available to students and researchers through its parent agency. CT Sea Grant's research coordinator, Syma Ebbin, works with researchers interested in bringing these students into their labs, and also administers grants that support the researchers' work.
Two of last summer's Connecticut scholars, Kyla Kelly and Nathan Lanning, hailed from the Marine Biology Program at the University of New Haven.
"My internship taught me to be an independent researcher," said Lanning, who interned with the Ocean Chemistry and Ecosystems Division at NOAA's Atlantic Oceanographic and Meteorological Laboratory in Miami. "It gave me a stronger understanding of the scientific method, as I analyzed my own data and came to my own conclusions."
He studied the relationship between climate conditions and nutrient concentrations in marine ecosystems. During a five-day oceanographic research cruise throughout the southern coast of Florida aboard the R/V F.G. Walton Smith, Lanning collected samples and analyzed nutrient, dissolved oxygen and chlorophyll data. He presented his results at the 2018 Ocean Sciences Meeting in Portland, OR.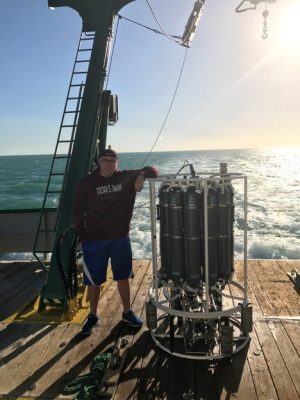 With his mentor, he recently submitted a manuscript for publication to an academic journal. In the fall, Lanning will continue his education at Texas A&M University, where he'll pursue his doctorate in oceanography, focused on trace metal biogeochemistry in the open ocean. His research will take him on another oceanographic cruise, this time across the Pacific Ocean from Alaska to Tahiti, during which he will study areas of high macronutrient but low chlorophyll concentrations, resulting from trace metals limitations. Ultimately, Lanning said, he hopes to apply his scientific training to a career in environmental policy.
Kelly spent her internship on the West Coast, working with NOAA Fisheries in Seattle.
"Not only did I learn a lot and have a great experience at NOAA, but I also had the chance to explore the beautiful mountains of the Pacific Northwest and take a ride up the Space Needle," she said.
In the NOAA lab, she used molecular methods to measure the abundance and distribution of a toxic marine plankton of particular interest in Puget Sound: Azadinium. Kelly worked with water filtration samples, DNA extractions and polymerase chain reaction (PCR) analyses, making an important contribution to NOAA's harmful algal bloom monitoring effort. In December, Kyla traveled to New Orleans to present her results at the American Geophysical Union's fall meeting, the largest earth science gathering in the world.
She is currently interviewing with graduate schools and expanding her algae research into a senior thesis project at the NOAA lab in Milford.
The third Connecticut college student, Chase Ammon, is majoring in environmental studies at Yale University.
For his internship, he ventured to Juneau, Alaska, where he helped Alaska Sea Grant study the impacts of whale watching on humpback whales and orcas.
A fourth Hollings scholar, Hope Elliott, came to Connecticut for her internship from Rhodes College in Tennessee, where she is majoring in environmental science. Working at the NOAA lab in Milford, she spent her summer studying carbon and nitrogen ratios in the tissue of diploid and triploid oysters — oysters with two and three sets of chromosomes.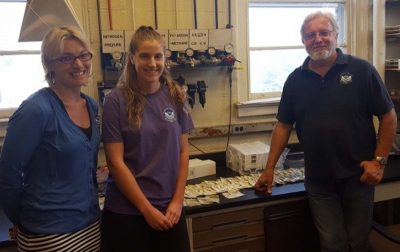 Her project could have implications for oyster aquaculture and environmental policy, particularly the nutrient trading program in the Chesapeake Bay, which is designed to reduce nutrient pollutants entering the waterway. After graduating, Elliot plans to pursue a graduate degree in natural resource management or environmental health.
Through the internship, she said, she gained confidence in her ability to complete an independent project and present her results in a meaningful way.
Since its founding 13 years ago in honor of Sen. Ernest F. Hollings of South Carolina, an advocate for ocean policy and conservation, the program has offered tuition assistance and paid internships to more than 1,400 students. A recent evaluation showed that 75 percent of alumni go to graduate school, and one out of three have obtained or are currently pursuing a doctoral degree.
For information on the program, visit: http://www.noaa.gov/hollings
Kristen Jabanoski is the communications director for NOAA Higher Education.
---