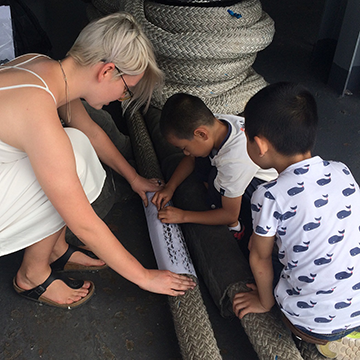 Every year, we award $1000 in support for the arts through a competitive process. The winner, selected by an external panel of art experts, is an artist whose work supports Connecticut Sea Grant's goal to increase ocean and coastal awareness. Anastasiia Palamarchuk, a graduate student in the Yale Fine Arts program, is this year's recipient.
Palamarchuk's project will be researching and creating a video to tell the amazing story of Madeline Blair, a Connecticut native who stowed away on the Battleship Arizona in 1924 in order to travel to Los Angeles. The project builds upon her graduate project with Rebecca Sittler, a professor at California State University Long Beach, "Seafaring Women." The goal of both is to shed light on women's role in seafaring history, particularly where women have gone to sea as pirates, stowaways, explorers, or disguised as sailors.
Madeline Blair (aka "Jackie") was an ambitious 19-year-old from Bridgeport when she stowed away on the Battleship Arizona in 1924, while the fleet was in the Hudson River, in hopes to reach Los Angeles and become an actress. Madeline dis­guised herself as a sailor by stealing clothes from the crew. She was discovered after five weeks, when the ship was going through Panama Canal and was later delivered to Long Beach, California.
Palamarchuk discovered Madeleine Blair's story while completing her undergraduate degree at California State University Long Beach, which also happens to be the place where Blair ended her journey.
"Having moved to Connecticut to begin my graduate studies at the Yale School of Art, I feel a coincidental connection to Madeleine Blair's stowaway journey that began in Bridgeport, Connecticut." Palamarchuk said. "I would like to have an opportunity to retrace Madeleine's steps, and hopefully fill in some gaps in the story."
---