Many of our Connecticut Sea Grant staff attended Sea Grant Week in Newport RI on October 10-17. We were celebrating Sea Grant's 50th Anniversary of serving the nation with science-based solutions in the coastal and Great Lakes states. Presentations and networking allowed us to share ideas and successes with our colleagues from all over the USA, Guam, and guests from Japan and Korea. A big part of the meeting was planning a vision forward for our next 50 years, and how to prioritize needs and identify partners.
The group decided to continue the next 4 years with these priorities:
Healthy Coastal Ecosystems
Resilient Communities & Economies
Sustainable Fisheries & Aquaculture
Environmental Literacy & Workforce Development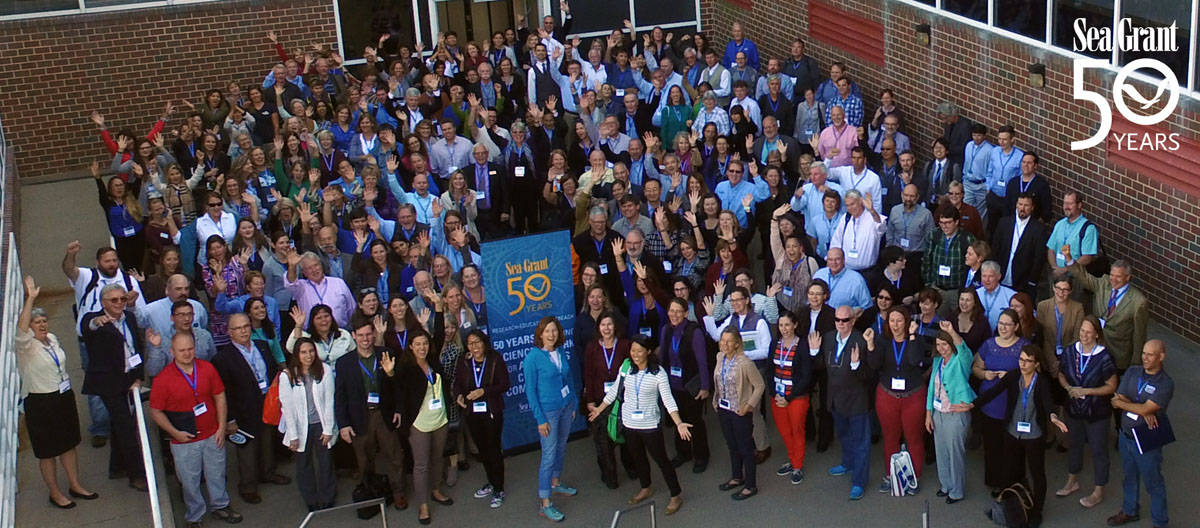 Our program was pleased to receive, with New Hampshire and Maine Sea Grant, the Sea Grant Research to Application Award for a group effort. The award was selected for our efforts in research and outreach integration in Sea Vegetable aquaculture.
Sea Grant SGA President Sylvain DeGuise (our program director) presented the Sea Grant Association Distinguished Service Award to Admiral Richard (Dick) West, who also serves on our CTSG Senior Advisory Board. The award recognizes individuals who have provided truly superior service benefiting the entire Sea Grant College Program Network. The nomination read as follows: "Admiral West has served tirelessly on the National Sea Grant Advisory Board, enthusiastically accepting the most difficult assignments while remaining respectful, effective and collegial. Dick has consistently engaged the Administration (including NOAA leadership and OMB) and members of Congress to speak highly about Sea Grant."
Also honored was Richard Blumenthal, US Senator from Connecticut, who received the Sea Grant Association Award. The Sea Grant Association Award recognizes an individual for direct demonstrable contributions through research, education/training, advisory, or public service activities which embody Sea Grant concepts, or have been effective users of Sea Grant products. The nomination read as follows: "Senator Blumenthal's commitment to coastal and ocean issues has remained consistent and steadfast. He recently played a significant role in the designation of the Northeast Canyons and Seamounts Marine National Monument, the first marine national monument in the U.S. Atlantic. "
Among the many distinguished guest speakers addressing the challenges of the future were Dr. Jonathan Pennock, Director of the National Sea Grant Office, Dr. Bob Ballard, URI, and U.S.Senator Sheldon Whitehouse.
One highlight was a field trip to the Deepwater Wind Farm, 3 miles offshore of Block Island, expected to soon power 17,000 homes as a pilot project.
---