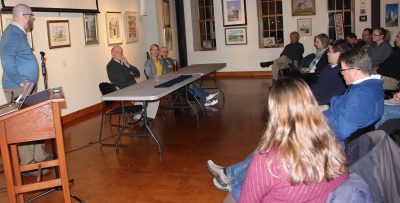 Stonington – About 100 people curious about the town's historic and current experience with shellfish aquaculture came to the La Grua Center on Jan. 29 for the chance to learn from some experts and ask questions.
"Shellfishing has been an important part of Stonington since its founding," said Tessa Getchis, aquaculture extension expert for Connecticut Sea Grant / UConn Extension, who led the program with a PowerPoint presentation titled "Farming the Coastal Waters of Stonington Past, Present and Future." "Today there are 1,600 acres of shellfish beds in Stonington, along with six shellfish businesses supporting 12 maritime jobs."
The program, hosted by the Town Planner's Office, was organized in response to questions and concerns being raised about a proposal from a commercial shellfish farmer to use town waters of Quiambaug Cove to raise oysters.
"We needed a conversation with the community," said Jason Vincent, the town's director of planning.
The program gave an overview of the town's long experience with aquaculture and town and state jurisdiction of shellfishing grounds – which were shown on several maps. It also described the regulatory process for commercial clam and oyster farms and benefits of aquaculture in providing a local source of healthy food, creating jobs and revenues. Shellfish also filter excess nutrients from the water and provide habitat for fish and other marine animals.
Included in Getchis' presentation were photos of local shellfish farms, several showing open water areas marked by buoys but no other structures visible and one in Groton where oysters are grown in floating bags seen from the surface. Near-shore areas used for shellfish farms are permitted by the town's Shellfish Commission, while offshore areas are leased from the state, Getchis explained. Permits to install cages, lines and other structures in the water are under the purview of the state Department of Energy and Environmental Protection, the state Department of Agriculture's Bureau of Aquaculture and the U.S. Army Corps of Engineers, she added.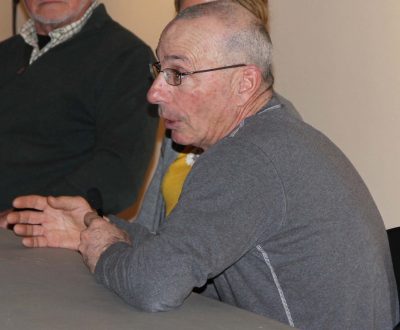 In addition to tending their own areas, the town's commercial shellfish farms also supply seed clams and oysters to the town's three recreational harvest areas.
"Recreational harvest in our town depends on these farmers," Getchis said.
Vincent, who moderated the question-and-answer portion, said shellfish aquaculture is identified as an activity the town seeks to preserve and support in its current Plan of Conservation and Development.
Audience questions covered a range of topics, from coordination between the town, state and federal agencies on aquaculture proposals to the amount of acres available for shellfish leases, startup costs for a shellfish farm and to how Connecticut oysters compare to those farmed in Rhode Island.
"We have very good water quality here," said Steve Plant, who farms oysters in Groton as Connecticut Cultured Oysters. "We have a pretty good oyster here in Connecticut. I'd put my oyster against one from Rhode Island in a heartbeat."
Audience questions reflected interest listening and learning rather than taking a position on any specific proposal. One man asked how the Shellfish Commission balances historic uses of shellfishing grounds with what is now located around these areas.
"It is a delicate balance between the rights of property owners and the rights of shellfish farmers to use those areas," said Don Murphy, Shellfish Commission chairman and one of the panelists. "The goal of the Shellfish Commission is to make that balance."
— Judy Benson
---