Readers of the Fall-Winter 2020-21 issue of Wrack Lines are sending comments to the new "Talk to Us" column. Check out what they're saying and send your own responses to: judy.benson@uconn.edu. We'd love to hear from you!
"We just received the latest Wrack Lines and wanted to let you know much my wife and I are enjoying it. It has been our only link with the shore since early February. The subject of social and environmental justice are intimately entwined and the need for diversity of teachers and mentors for students of all backgrounds especially in science and environmental education has never been more crucial. The educators you cover in this issue are wonderful examples."
—Bob Lesko, Granby
"Just picked up Fall/Winter issue – my second magazine and I can't keep talking about it.  Just gave the first copy I picked up away to someone who will be very enthusiastic about it once he reads it. So YES I would love a print copy."
—BB Smith, Niantic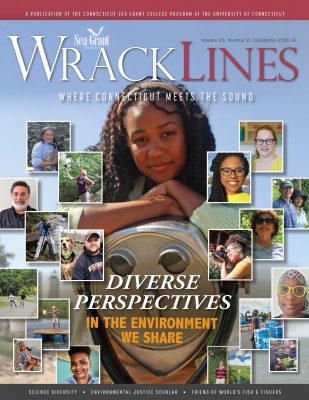 "I want to thank you and your staff  for sending Shoreline Greenway Trail copies of the latest edition of Wrack Lines.  I'm particularly pleased with your article on the Shoreline Greenway Trail and on our organization's role in helping shoreline towns and state parks to make the trail a reality. By placing the article on the trail in context with other initiatives along the Sound, you call attention to the trail's role in giving people a chance to experience the Sound and therefor care more about protecting this fragile, environmentally important space.
I appreciated the emphasis on diversity in this article. As you may have noticed in the time you've spent on the trail at Hammonasset, we do not yet see racial diversity in trail use. Our organization has discussed ways of addressing this situation, and we'd like to encourage a wider variety of users. We're proud that some of our trails are handicapped accessible, and that's another area where we'd like to see growth.
So much to be done!  I think I can speak for the others in our organization that you encountered in saying that we enjoyed our time with you and your staff.  Best of luck with your work, and we look forward to staying informed of it."
—Judith D. Miller, Branford, chair, Shoreline Greenway Trail
"Thank you so much for sending us Wrack Lines. It is great to read the articles and know that something we like to see is still in place.
The articles are great and I have followed the Hammonasset trail as it ends on the street I grew up on in Madison. The articles on diversity certainly strikes a chord in urban settings. Looking forward to the time we can resume our full educational programs—until then Wrack Lines keeps us all informed."
—Tim Visel, coordinator, The Sound School, New Haven
---