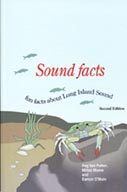 WINNER of 2010 APEX AWARD of EXCELLENCE
M. Van Patten, M. Moore and E. O'Muin
A fun and colorful, 80-page booklet about our favorite estuary, its biology, geology, chemical and physical parameters, and environmental concerns. This booklet is a compilation of features developed as a collaboration between Connecticut Sea Grant and The Day newspaper. Perfect for the classroom. Reissued in 2009, it contains some new info-graphics such as moon jellies, starfish, and nitrogen in the Sound. 80 pp. $5.00 per copy plus $2.00 postage/shipping for single copies. Please contact us for bulk shipping cost.
Publication Number CTSG-09-17
Contact Michelle MarcAurele or download order form.
---