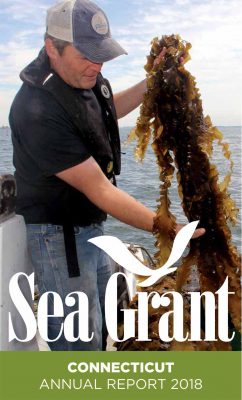 Connecticut Sea Grant has received a Grand Award for its 2018 annual report in the national APEX 2019 competition for publication excellence.
It was one of only 100 Grand Awards given in the annual competition that received 1,300 entries in 12 categories. It is "the highest recognition the APEX judges can present," Ken Turtoro, executive editor of Communications Concepts, the Alexandria, Va., organization that sponsors the contest, said in his announcement letter.
The report was produced by CT Sea Grant Communications Coordinator Judy Benson, and Karen Ward, a freelance graphic designer from Pawcatuck, with input from other Sea Grant staff.
Sylvain De Guise, director of Connecticut Sea Grant, said the report fulfilled its purpose of providing information on Sea Grant in an "easy-to-read and appealing format."
The annual report can be found at: https://seagrant.uconn.edu/wp-content/uploads/sites/1985/2019/01/Seagrant_AR2018_web.pdf
The full list of APEX awards is at: http://www.ApexAwards.com.
---