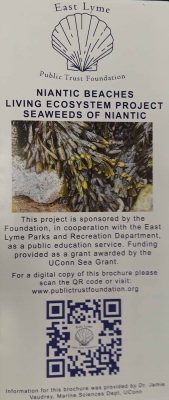 East Lyme – The East Lyme Public Trust Foundation has published educational pamphlets to teach the public about the seaweeds, shells and plants on the town's shorelines. The project was co-sponsored by the foundation and the East Lyme Parks and Recreation Department, with funding provided by Connecticut Sea Grant.
The pamphlets created through the Niantic Beaches Living Ecosystem Project, with photographs and descriptions of the most common types of marine life found on the town's beaches, were conceived by James Gallagher, a retired oceanographer.
"I want to provide education about key elements of the local beach environment to hopefully increase conservation, knowledge and interest in the local ecosystem," he said in an article on the foundation's website.
Juliana Barrett, coastal habitat specialist at Sea Grant, wrote the pamphlet on beach plants. UConn Marine Sciences Prof. Jamie Vaudrey wrote the one on seaweed, while Bill Rinoski, a retired science teacher, authored the one on sea shells. The pamphlets are available at sites near the Niantic Bay Boardwalk, Hole in the Wall beach, the McCook Point Park bathhouse, Cini Park, Town Hall, the parks and recreation department, East Lyme High School, Niantic Center School and the Children's Museum of Southeastern Connecticut.
Downloadable pdfs of the pamphlets can be found here.
---