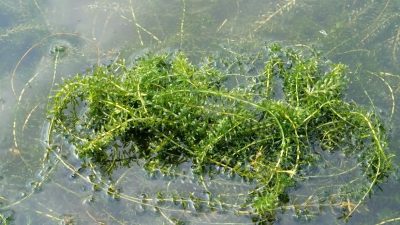 Learn about the threat facing the Connecticut River from hydrilla, a troublesome, invasive aquatic plant which crowds out native vegetation, harms fisheries, limits recreation, impedes navigation and reduces property values in this new video. The video was generated through CT Resource Conservation & Development (CTRC&D) as a response to reports of hydrilla in the southern portion of the river.
The video is one of the projects of the task force led by the Connecticut Agricultural Experiment Station Invasive Aquatic Plant Program (CAES IAPP) that was formed in response to reports of hydrilla in the southern portion of the river. From the Connecticut border south, hydrilla has become common, leaving portions of the river and its coves downstream from Hartford alarmingly choked with the weed.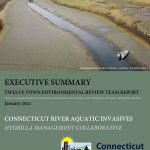 In some coves, hydrilla spread over the surface, making access by boat impossible. In addition to damage to the CT River and its tributaries, the spread of the hydrilla to other waterbodies by fragments on boat trailers or waterfowl is a grave concern. A comprehensive survey of the Connecticut section of the river using established CAES IAPP protocols is needed to document the extent of the infestation. This will provide the basis for an assessment of management options, educational outreach and future tracking. We are seeking out other potential partners to help fund the survey north of Haddam, CT up to the CT border.
The Executive Summary of the 12-Town Environmental Review Team Report of the Connecticut River Aquatic Invasives Hydrilla Management Collaborative can be found here. To learn more about the work of the task force, visit http://www.ctrcd.org or contact Jeanne Davies at: jdavies@ctrcd.org. 
---