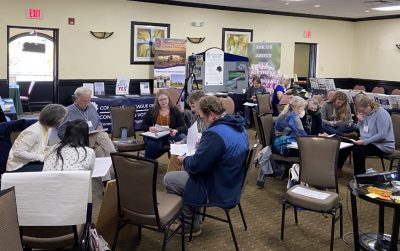 In partnership with the UConn Center for Land Use Education and Research (CLEAR), CT Sea Grant Extension Educator Alicia Tyson co-facilitated a hands-on workshop with Emily Wilson of CLEAR at the Connecticut Association of Conservation & Inland Wetlands Commissions' 45th Annual Meeting & Environmental Conference on Oct. 29, 2022.
Held at the UConn Extension Center in North Haven, the event included a range of presentations and workshops centered on the theme of celebrating the 50th anniversary of Connecticut's Inland Wetlands and Watercourses Act.
Titled, "Leveraging Systems Thinking and Geospatial Technologies for Advanced Sustainable Watershed Management," the workshop engaged participants in an exploration of sustainable approaches to identifying, developing and implementing solutions for effective watershed management that address the socio-ecological systems interactions and dependencies.
Following a short presentation, participants worked through a group activity underscoring the value of incorporating different forms of knowledge when developing sustainable solutions. The activity aided participants in deepening their understanding of both spatial and systems thinking by creatively identifying how to tell a geospatial story of an issue related to climate change impacts.
Participants used mind mapping and other forms of diagramming to evaluate climate change impact scenarios that included inland flooding, loss of forested land due to development, coastal erosion and sea level rise. They considered the role of understanding risk perception and environmental justice principles as well as upstream/downstream hydrological and ecological processes at varying spatial and temporal scales that impact the socio-ecological landscape.
Participants also identified key geospatial data needs and were provided with key resources developed by CLEAR to aid in the enhancement of resilient communities and landscapes and development of holistic watershed management approaches.
The presentations were met with positive responses from attendees, according to Alan Siniscalchi, president of the CACIWC.
---