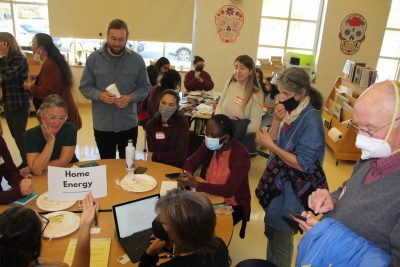 Story and photos by Judy Benson
June bugs aren't showing up until July.
A dam at a city park dried up in last summer's drought.
Invasive plants and insects are proliferating, traditional New England tree species are dying and the first frost of fall is coming later than ever.
Those were some of the responses to the question about local climate change effects posed by Mauro Diaz-Hernandez to about 75 New Haven residents who gathered at the John S. Martinez School on Oct. 29. They were spending five hours of their Saturday afternoon at an event called Climathon to learn about the global crisis of rising waters and temperatures, and how they can respond as individuals and as a community.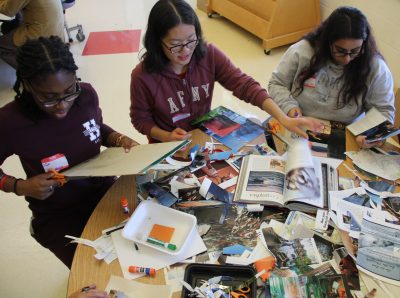 "What have you all seen now in New Haven?" asked Diaz-Hernandez, of the Yale Center for Climate Change and Health, who moderated the event. "What have you felt?"
The event was sponsored by the grassroots group Reimaging New Haven in the Era of Climate Change, the City of New Haven, Save the Sound, Connecticut Sea Grant and other groups. It was the third event in which Sea Grant and the National Oceanic and Atmospheric Administration partnered with community organizers to boost community participation in climate change planning in Connecticut. Others are being planned for Bridgeport, New London and Norwich.
"New Haven has a lot of active groups that are focused on bringing all community voices into the climate change conversation to learn and take action," said Nancy Balcom, associate director of Connecticut Sea Grant. "It was inspiring to listen to the enthusiastic and wide-ranging ideas for actions that can be undertaken locally and individually to help address the climate challenges we are all facing."
The event began with presentations about the ways climate change is spreading its tentacles into many aspects of human life, and how those with the least resources are experiencing the most harm.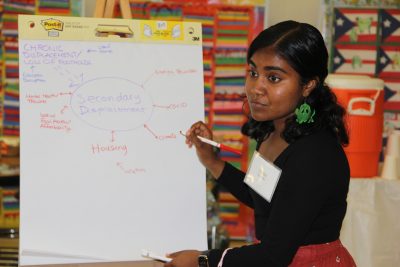 "The most vulnerable are already feeling the effects of climate change," said Adrian Huq, co-founder of the New Haven Climate Action Team. "The richest 10% of the population produce more than half of the carbon emissions."
She and other speakers advocated that climate change be viewed through the lens of climate justice, a perspective that acknowledges that while the crisis impacts everyone, it doesn't impact everyone equally.
Others addressed the plight of refuges from countries experiencing persistent drought and intensifying storms, how farmers are being impacted and specific local effects such as increased flooding in low-lying parts of the city. Several of these areas are low-income neighborhoods such as Fair Haven, where the Martinez school is located.
John Truscinski, director of resilience planning at the UConn-based Connecticut Institute for Resilience and Climate Adaptation (CIRCA), said New Haven and other Long Island Sound communities need to plan for 20 inches of sea level rise by 2050. He urged four main strategies be used: protection with sea walls and other infrastructure; accommodation by leaving areas open to receive floodwaters; retreat of homes and other buildings from the most vulnerable areas; and avoidance by keeping assets out of flood plains.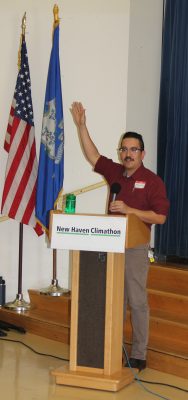 "It can't be one strategy, it's got to be a bucket of strategies," he said. "We have to get out of our houses and get together and imagine what our future's going to be."
While the issue can seem overwhelming, participants were invited to join one of 10 workshops to brainstorm positive actions they can take to empower themselves and help their community.
"Don't let anybody undervalue your contribution to the movement," said Alex Rodriguez, environmental justice specialist with Save the Sound.
Workshop topics included: Water and Green Infrastructure; Heat and Trees; Plant-based Diets; Home Energy; Reimagining Long Wharf; Power of the Pen; Migration and Shelter; Climate Entrepreneurship; and two where participants created collages out of recycled materials to convey messages about climate change through visual medium. As the discussions took place, artist Raheem Nelson captured the ideas being generated in drawings on an iPad. Earlier, several illustrations he created from the climate effects presentations were shared on a large screen.
After the discussions, a spokesperson for each workshop summarized findings and actions that could be pursued for the entire group. Stu deCew, who spoke for the Climate Entrepreneurship workshop, said the exercise renewed his hope for the future.
"We started with what the community cares about and built from there," he said. "I think we ended up with a real dose of optimism."
Steve Hamm, one of the founders of Reimaging New Haven, said he was heartened to hear the many practical ideas spawned in the workshop discussions. These included: creating bioswales at homes to capture runoff to planting trees; avoiding meat consumption; recognizing the social service needs of refugees displaced by climate effect; and expanding programs to increase home energy efficiency.
"There are ideas that came out today that we can pursue," he said.
The afternoon concluded with more words of encouragement from Alanis Allen, research analyst at the Office of Climate Planning at the state Department of Energy and Environmental Protection. DEEP is preparing to offer funding for community resilience projects, she said, and events such as the Climathon help position New Haven to take full advantage of that.
"Getting the community involved in climate resilience planning will only make these solutions better and more equitable," she said.
---