Two sculptural installations, one of illuminated right whales and another of found objects enhanced with printed photographic images, will be created by two artists selected to receive funding support under the 2018 Connecticut Sea Grant Arts Support Awards Program.
Now in its eighth year, the competitive arts funding program provides up to $1,000 per artist for supplies needed to create works that enhance public awareness of the marine environment and the work of Connecticut Sea Grant to foster healthy coastal ecosystems. The works created by this year's recipients, selected from among 10 applicants, will be displayed in various public venues.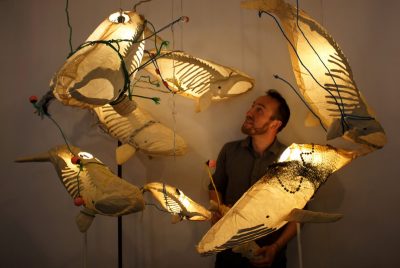 The submissions of two individual artists, Kristian Brevik of Burlington, VT, and Lillianna Marie Baczeski of New Haven, were the top choices recommended by an independent Arts Review Panel. The panel said both projects have the potential to engage broad audiences and generate conversations about conservation.
"Sea Grant's arts program supports projects that have the capacity to engage new audiences and cause them to think about and interact with Connecticut's marine environment in novel ways," said Syma Ebbin, who oversees the program as Sea Grant's research coordinator. "These two projects are great examples of works that integrate high aesthetic and conceptual qualities with the ability to educate the public at the same time."
In his project proposal, Brevik said he will construct "a fleet of illuminated ghost whales which represent the ghostly nature of our relationship to these creatures and the precarious condition of the North Atlantic right whale population." His work is titled, "Entangled: Illuminated Ghost Whales."
The whales will be made of cotton cloth wrapped over a mold and stiffened with a papier-mache mix, then lit internally, illuminating the whale's skeleton. They would be hung from ceilings or mounted on floor lamp pedestals in the exhibit spaces. Some of the sculptures would be entangled in fishing gear, while others would show wounds from ship strikes, the two main hazards to the endangered population of right whales. Currently a doctoral candidate in insect evolution and genetics at the University of Vermont, Brevik has been creating artwork that explores human impacts on wildlife since he studied biology and sculpture at Hampshire College in Amherst, Mass., where he received his undergraduate degree in 2010.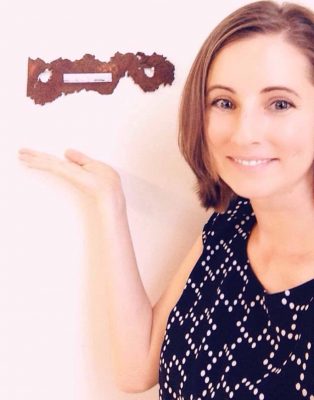 Titled "Sea, Seen," Baczeski's project will consist of discarded and natural objects from the Connecticut coast. A photograph of the view of Long Island Sound at the place where the object was found would be printed onto the object. Sample sculptures she has created impose images from a Branford beach on a rusty metal strip, a plastic Easter egg and a bottle cap.
For her project, Baczeski would fix the image-objects into temporary display boxes at the locations where they were found for a series of one-day plein air exhibits. There, the artist would talk to the public about the objects, her process and what her sculptures evoke. She hopes to reach a non-traditional audience for contemporary art by having exhibits at each of the 27 towns on the Connecticut coast.
"Sea, Seen is ultimately a project about the ocean's connectedness, and about circulation," Baczeski wrote in her proposal. "My main objective is for viewers of the art objects to think about the material they interact with that might end up in our oceans, and how that material alters the human experience of the coast."
Both artists plan to show their works at the University of Connecticut's Avery Point campus in Groton, where the Connecticut Sea Grant program is based, among other venues in the state.
For information about the arts grant program, visit: https://seagrant.uconn.edu/?p=4566
---