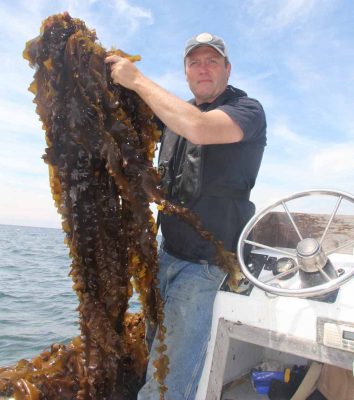 Story and photos by Judy Benson
As the first of the summer vegetables ripen for picking at local fields, a unique new crop had its maiden harvest from an underwater farm in Groton.
It won't be showing up at farm stands and farmers' markets just yet, though. These long, curvy-edged, greenish-brown ribbons gathered by the boatload are, for now, awaiting consumer pioneers to fuel demand for locally grown edible seaweed, specifically kelp native to Long Island Sound.
"This year, we were trying to get the growing down, and figure out what volume to grow," said J.P. Vellotti, who planted and harvested the kelp on 12 submerged lines cordoned off by buoys at the Groton site.
Building on what he learned growing kelp for the past two years at sites in the western Sound, Vellotti last February seeded the 18-acre site off Pine Island – near Bluff Point State Park and UConn Avery Point — for his submerged farm. It is now the largest of the 13 kelp growing sites leased from the state in Connecticut waters of the Sound from Stonington to Greenwich – in fact it's 60 percent larger than the next biggest one. And it's probably also the most productive, considering that not all of the 13 leased areas actually ended up being planted this year, according to Shannon Kelly, environmental analyst at the state Bureau of Aquaculture.
Because kelp thrives in cold water, it's a winter crop ready for harvest just as the summer boating season is getting underway. Vellotti said that 3½ months after he attached string imbedded with pinhead-sized kelp seed to heavy underwater lines, he was slicing off ribbons up to 12 feet long, with an average size of about eight feet. Each ribbon is about two to four inches wide.
"We don't want it to get any bigger than that, because as it gets longer the ends break off," he said. "You really only get about three to four feet that's usable. It's grown better at the Pine Island site than at the other sites we tried because there's higher salinity."
Calculating the amount actually harvested, though, is difficult. Weighed fresh just after harvest, the water content is very high, and the necessary processing techniques – either blanching and freezing or dehydrating – shrink the volume substantially. Because of its short shelf life, kelp must be refrigerated and packaged or blanched and frozen right after harvest.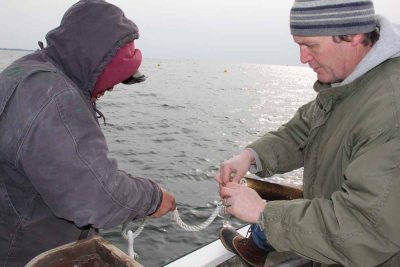 But Vellotti does know that he sent about 50 pounds of fresh kelp to two laboratories in the state to test its nutritional value. Kelp grown elsewhere has been shown to be high in vitamins A, B, C, E and K, as well as omega-2 fatty acids. But there was no information specific to Connecticut kelp, Vellotti said.
"We want to know what's in our kelp," he said. He hopes to have the results in a week or so, and that the information will provide a good basis for marketing the sea vegetable. Chefs who've worked with it say kelp is a versatile vegetable that can be incorporated easily into soups, sauces, seafood dishes and salads, adding a pleasing savory flavor.
Anoushka Concepcion, aquaculture extension specialist at Connecticut Sea Grant, said the work Sea Grant has been involved in for three decades to support kelp aquaculture is now at a turning point.
"We now know how to grow it," she said. "The challenge now is to bring it to market. Without figuring out the marketing side of things, it doesn't matter that we know we can grow it."
At the Bridgeport Regional Vocational Aquaculture School, Holly Turner-Moore, teacher and hatchery manager, said students there have been growing kelp since 2010. They've developed a loyal customer base for their harvest, sold during the school year at the school's Angie's at Aqua fish market blanched and frozen in 1-pound packages.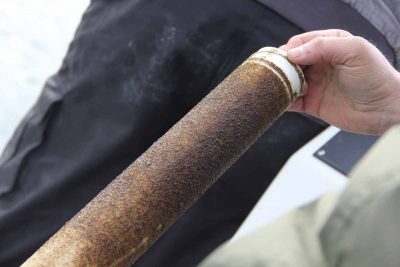 "People buy it for smoothies, or for kelp salad and other side dishes," she said.
After supplying the two nutrition testing labs, most of the rest of Vellotti's harvest went to the Norwalk Community College culinary arts programs. There, students used it in lessons on processing methods and in recipes. And a small amount of fresh, refrigerated kelp ended up with Chef James Wayman at the Mystic Oyster Club, who used it in a kelp-infused butter on lobster rolls, Vellotti said.
Beyond culinary applications, he's is also exploring other markets for future harvests.
"We're looking at cosmetics companies, fertilizer companies, animal feed, kelp powder – it's all over the map," he said.  "But mainly, we want to market it as a food source, even get it into schools. Southern New England kelp is very light-tasting."
The next two years, he said, will be spent developing the processing, distribution and marketing for the kelp he'll continue growing.
"In two more years, we're hoping to have a return on our investment," he said.
More information about kelp, including recipes, can be found in the Spring-Summer issue of Wrack Lines magazine.
Judy Benson is the communications coordinator at Connecticut Sea Grant. Click here to read an article she wrote for the Perspective section of The Day of New London about the kelp harvest. 
---