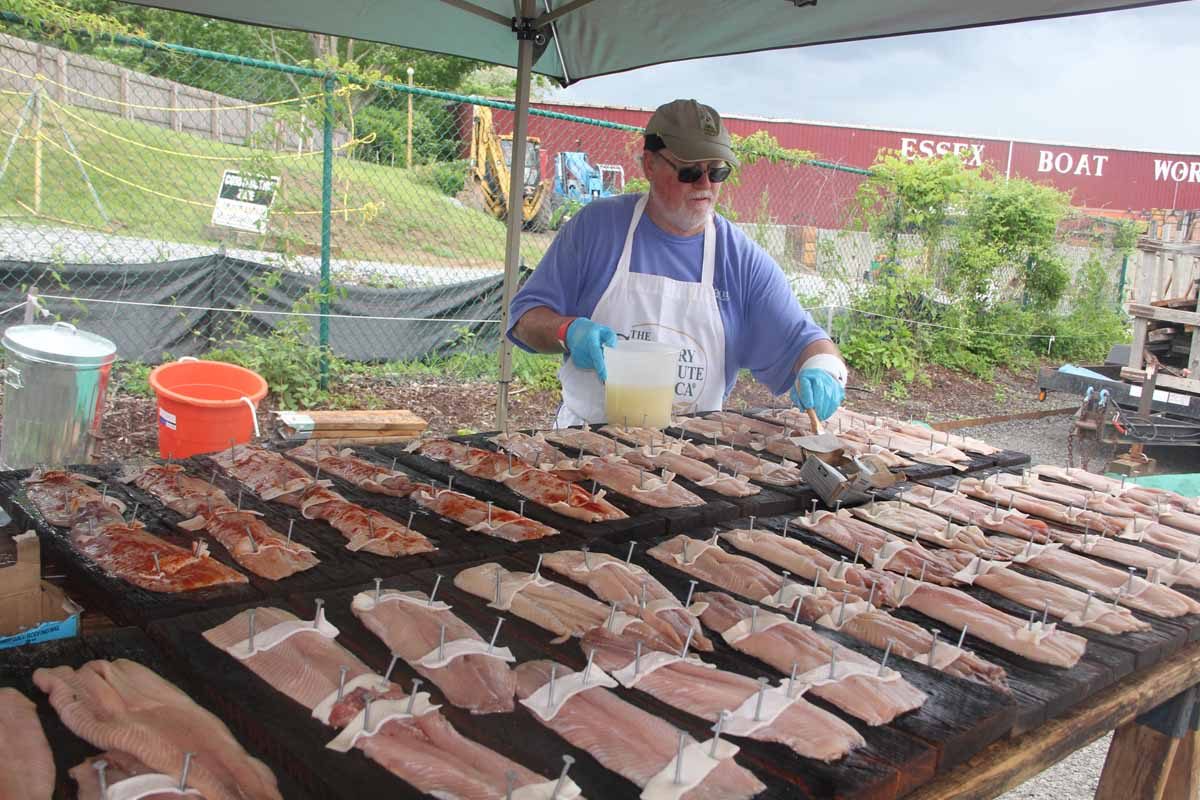 Baked shad fillets with rosemary served with mushroom-tomato cream
Serves 2 
1 tablespoon butter, broken into pieces
4 three-inch sprigs fresh rosemary
10 to 12 ounces skinless, boneless shad fillets
2 tablespoons white wine
4 ounces fresh mushrooms, washed and sliced
½ cup diced tomatoes
½ cup heavy cream
½ teaspoon salt, or to taste
Black pepper to taste
Preheat the oven to 350o F. Dot ½ tablespoon of the butter over the bottom of an ovenproof casserole pan and scatter the rosemary sprigs over it. Place the shad fillets on top in a single layer, and drizzle the wine over the shad.
Bake for 15 minutes, or until the shad just turns opaque.
Meanwhile, prepare the mushroom–tomato cream Sauce: Melt the remaining ½ tablespoon butter in a frying pan set over high heat, add the mushrooms and sauté, stirring and shaking the pan for 5 minutes, or until lightly browned. Add the tomatoes and cream and stir to incorporate. Reduce the heat and simmer for 5 minutes, or until the sauce thickens and the tomatoes have softened.
When the shad is done, carefully transfer it to a serving platter, cover and keep warm. Add the juices and rosemary from the casserole to the Mushroom–Tomato Cream sauce. Simmer the sauce for a few more minutes to further thicken it. Add salt and pepper to taste and stir to incorporate. Pour the sauce over the baked shad. Serve immediately.
Recipes courtesy of Hale's Shad
Fredda's shad recipe
Serves 2
Shad fillet (about 1 pound)
Vegetable oil spray
Juice of ½ fresh lemon (about 1 tablespoon)
3 tablespoons tamari–soy sauce
Preheat the broiler. Spray a baking pan with vegetable oil spray. Place the shad fillet into the pan, skin side up.
Mix the lemon juice with the tamari–soy sauce in a small bowl or cup. Spoon about half the mixture over the skin of the shad.
Broil the shad for a few minutes, until the skin starts to bubble up and becomes crisp. Carefully turn the fillet over and spoon more of the lemon juice–soy sauce mixture over the fish. Broil for a few more minutes, until the fish is opaque and firm to the touch. Serve immediately.
Recipes courtesy of the Haddam Shad Museum.
---