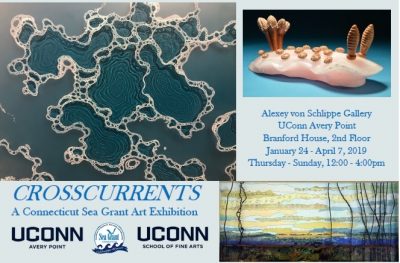 As part of our 30th anniversary celebration, Connecticut Sea Grant is proud to present "Crosscurrents," an exhibition of works created through CTSG's Arts Support Awards Program over the last 10 years. Ground-breaking, multimedia works by 13 artists whose creations have enhanced awareness of Connecticut's coastal environment and maritime heritage will be on display at the Alexey von Schlippe Gallery in the Branford House at UConn's Avery Point campus from Jan. 24 to April 7. Along with the "Crosscurrents" works, paintings by members of the Connecticut Plein Air Painters Society created at Avery Point will also be on display.
The gallery, located at 1084 Shennecossett Road, Groton, is open Thursday through Sunday from noon to 4 p.m. Admission is free.
An opening reception will take place from 5:30 to 7:30 p.m. on Jan. 24 in the gallery. More information about the exhibit can be found here.
For information, contact Christopher Platts, curator of the Alexey von Schlippe Gallery, at: christopher.platts@uconn.edu.
---