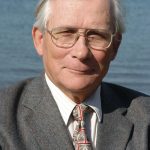 Sen. Richard Blumenthal honored former Connecticut Sea Grant Director Edward C. Monahan with a submission published in the Congressional Record on Oct. 23.
The Congressional Record document is a follow-up to the July 25 symposium at UConn Avery Point honoring Monahan, "Twixt Wind and Waves," organized by Marine Sciences Prof. Penny Vlahos and Margaret Van Patten, former communications director for Connecticut Sea Grant.
Monahan, emeritus professor of marine sciences at UConn, served as director of Connecticut Sea Grant from 1986 to 2005. The text of the Congressional Record document focuses mainly on his accomplishments as Sea Grant director.
An accessible version of the Congressional Record document can be viewed here.
---