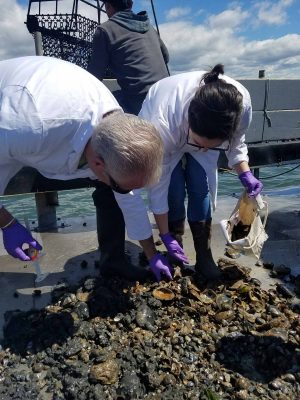 Groton – Oysters, sturgeon, salt marshes, stormwater and possible impacts of East River storm surge barriers will be the subjects of six two-year research projects being funded by Connecticut Sea Grant starting in 2020.
The six projects will focus on different aspects of the ecosystem of the Long Island Sound watershed — from the effect of microplastics on oysters, a key commercial species, to questions about whether endangered Atlantic sturgeon are spawning in the Connecticut River. Two projects will examine salt marsh dynamics and a fifth will create a model to determine how an East River storm surge barrier being considered to reduce flood risk in New York City would impact the Sound and Connecticut towns. The sixth project will look at the capacity of floodplains to improve the removal of contaminants from stormwater.
Research teams from the University of Connecticut, Yale University and a partnership of Earthplace in Westport, the Maritime Aquarium in Norwalk and Northeastern University in Boston were chosen for the awards. Total Sea Grant funding for the projects will total about $770,000, which will leverage matching funds of about $427,000, bringing the value of the research investment to about $1.2 million. Awarding of the grants is subject to release of the anticipated federal funds.
"Together these projects will enhance our understanding of some of the challenges facing Connecticut and provide critical insights into the most effective ways to address them," said Syma Ebbin, research coordinator for Connecticut Sea Grant. "This year's grant competition was stiff and yielded a diverse set of cutting-edge research, but also left several great projects on the table due to funding constraints."
Summaries of the six projects: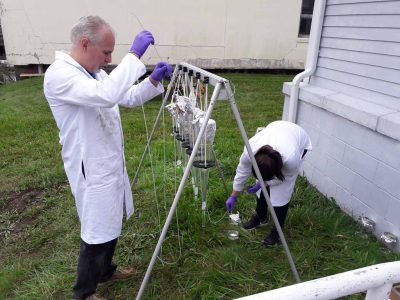 Researchers Evan Ward and Sandra Shumway, both of the Marine Sciences Department at UConn, will examine the types, sizes and quantities of microplastics in the waters around a Connecticut shellfish farm and within the oysters grown there. The study will examine the degree to which Long Island Sound aquaculture practices contribute to the creation of microplastics — tiny pieces of plastic either manufactured directly for personal care products or fragmented from larger plastic objects — and the extent to which they are ingested by cultured Oysters and other shellfish are filter feeders that can capture particles as small as 3 micrometers. The project will contribute to understanding of the likely sources of microplastics in cultured oysters. Collaborating on the project will be Tessa Getchis, Connecticut Sea Grant aquaculture specialist, who will lead outreach projects to share information with shellfish farmers, coastal landowners, municipal officials and the press.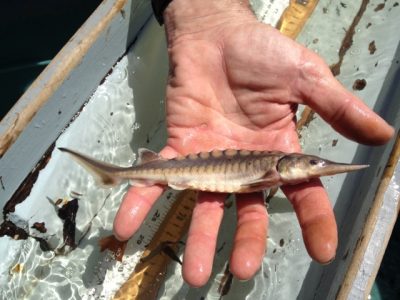 UConn Marine Sciences Prof. Hannes Baumann will work with three fisheries biologists with the state Department of Energy and Environmental Protection to confirm the existence of a re-emergent spawning population of Atlantic sturgeon in the Connecticut River. Spawning populations of this endangered species were thought to have to have been extirpated in the Connecticut River after overfishing in the late 19th In 2014, the discovery and analysis of tissue samples from several 1-year-old sturgeon found in the lower river indicates they were the offspring of sturgeon that spawned there in 2013. Baumann, along with Thomas Savoy, Jacque Benway Roberts and Deborah Paliceo of DEEP, will analyze an archived collection of 150 sturgeon pectoral fin spines and acoustic tagging data collected since 1998 and 2012, respectively, to extract insights into the age, growth and behavior of sturgeon in the Connecticut River. The results could help determine whether the juveniles found in 2014 were the result of a one-time event or evidence of a recolonization of the river by spawning sturgeon. It will also help identify spawning hotspots and inform protection efforts to further the restoration of this species.
A project to model how installation of a proposed storm surge barrier across the East River would impact Long Island Sound and Connecticut towns will be undertaken by James O'Donnell and Grant McCardell, who are both affiliated with the UConn marine sciences department. The proposed barrier is to be located on the river at the far western end of the Sound as part of a strategy to reduce flooding in New York City. A preliminary study indicates this barrier would affect the magnitude and timing of tides through the Sound. These effects could have important ecological and economic impacts, according to the researchers, especially in the western Sound where tidal variations and surges are already more extreme, and flood risk is more severe than other parts of the coast. The project would build on an existing model of the Sound and New York Harbor and work with other regional modeling initiatives to develop information that could help guide federal and state officials and residents about the likely positive and negative impacts of flood protection strategies. It will integrate the work of undergraduate students to research and compile historic tidal observations.
In hopes of improving the success of salt marsh restoration projects, researchers Sarah Crosby, David Hudson and Randall Hughes will compare sites where different sources and genotypes of salt marsh grasses were planted. The study seeks to determine whether plugs of the salt marsh grass Spartina alterniflora should be obtained from local sources to maximize restoration success and promote resilience of marshes in the face of climate change, and what can be considered "local." The three researchers — Crosby, director of Harbor Watch at Earthplace in Westport; Hudson, research scientist at The Maritime Aquarium of Norwalk; and A. Randall Hughes, associate professor at Northeastern University — will examine grasses planted at six restored marshes. Two are in Stratford, and one each is in Milford, New Haven, East Lyme and Groton. The plants used at the sites came from different sources in Massachusetts, New Jersey and Connecticut. Six natural marshes in Milford, East Haven, Branford, East Lyme and Groton will also be examined as control sites. The overall purpose of the research is to increase the effectiveness of future salt marsh restoration efforts, and add to our knowledge of the growth and genetics of Spartina alterniflora, a foundation species of salt marshes.
Salt marshes will also be the focus for Yale University researchers Shimon Anisfeld and Craig Brodersen. Building on previous work measuring the migration of marshes inland as sea levels rise, Anisfeld and Brodersen will examine the processes and factors that influence marsh migration into adjacent forests. These include the role of large storms and storm surge in initiating migration; the sequence of steps involved in forest-to-marsh conversion; and how tree species, soil types and other conditions affect migration rates. Both Anisfeld and Brodersen are affiliated with Yale's School of Forestry and Environmental Studies. They will study five sites along the coast from Stratford to Stonington, all of which were impacted differently by Superstorm Sandy in 2012. The results of the study will be used to improve models of future marsh migration as sea level rise continues.
The ability of natural wetlands and riverbanks to capture contaminants in stormwater will be assessed by UConn researchers Timothy Vadas, Ashley Helton and Baikun Li. Specifically, the project will measure the capacity of riverine floodplain to break down contaminants based on oxygen levels and other factors. These floodplain areas, also called riparian zones, are known to be effective at contaminant removal. The project seeks to quantify the additional contaminant removal that could be accomplished by utilizing floodplain areas that are connected to engineered systems based on best management practices such as bioretention basins. Vadas and Li are in the Department of Civil and Environmental Engineering, while Helton is in the Department of Natural Resources and the Environment. The goal of their work is to contribute to improvements in stormwater management in the watershed of Long Island Sound.
The competitive grant process is open biennially and utilizes federal funding administered by Connecticut Sea Grant for projects to improve the health of marine and coastal ecosystems and benefit the public.
For more information, contact Judy Benson, CT Sea Grant communications coordinator, at: judy.benson@uconn.edu.
---