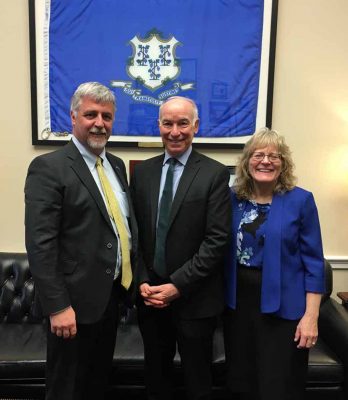 U.S. Rep. Joe Courtney is once again leading the charge in the House of Representatives to ensure strong support for the Sea Grant Program in the Fiscal Year 2021 Budget.
The Sea Grant program operates in every coastal and Great Lakes state, and it's heavily utilized by America's shellfish farmers and fishermen, as well as other coastal small businesses that rely on marine resources, according to a statement from Courtney's office. The Democratic congressman represents Connecticut's 2nd District. He led similar efforts that successfully restored funding to the Sea Grant program when it was zeroed out in the previous budget proposals of the current White House administration.
This year, the White House's fiscal year 2021 budget request proposed the total elimination of this important program. There is bipartisan support for the Sea Grant program in the House, Courtney's office noted. Rep. Courtney is leading a letter to House Appropriators along with Rep. Lee Zeldin, Republican Congressman from New York's 1st District, to encourage strong support for the Sea Grant program as the House gets underway with its budget negotiation process for 2021.
Thus far, Courtney and Zeldin have been joined by 98 other members of Congress on their letter of support for the Sea Grant program.
"We feel privileged that Rep. Courtney not only understands the services provided by Sea Grant in Connecticut and the nation, he leverages once again nearly a quarter of members of the House in support of Sea Grant," said Sylvain De Guise, director of Connecticut Sea Grant. "Such Congressional champions are essential to maintaining programs essential to constituents despite the President's budget proposing the elimination of Sea Grant. I guess that's government as it was intended to work."
---