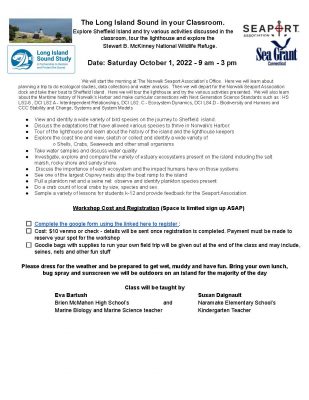 "The Long Island Sound in Your Classroom" workshop will take place at Sheffield Island in Norwalk on Oct. 1 from 9 a.m. to 3 p.m. Teachers will have a chance to explore Sheffield Island and the Stewart B. McKinney National Wildlife Refuge, try various activities and tour the lighthouse.
The workshop will start at the Norwalk Seaport Association's Office.  There participants will learn about planning a trip to do ecological studies, data collections and water analysis, then take a boat to Sheffield Island. Participants will also learn about the history of Norwalk Harbor and make curricular connections with Next Generation Science Standards.
Register at: https://docs.google.com/forms/d/e/1FAIpQLSe5tPmkWtFyzx-nH-94RJzdNG4JZesNmoVIST6wc4no4Weh2w/viewform
For more information, view the workshop flyer here.
---