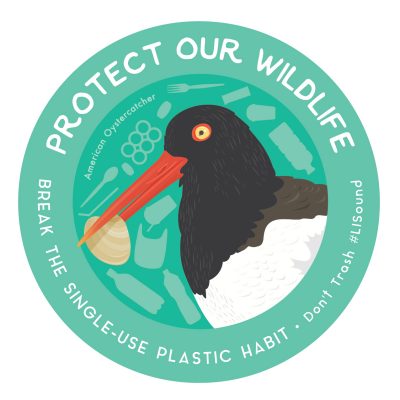 New Haven – Lighthouse Point Park will be the site of a beach cleanup and information outreach event on Aug. 8 to launch this year's "Don't Trash Long Island Sound – Break the Single Use Plastic Habit" campaign to encourage people to embrace reusable items instead of throwaway plastics and to protect the Sound from pollution.
The campaign, sponsored in 2017 and 2018 by the Long Island Sound Study, Connecticut Sea Grant and the Mystic Aquarium, has been joined this year by four organizations that will help with beach cleanups – the Connecticut Fund for the Environment/Save the Sound, The Nature Conservancy, Audubon Connecticut and SoundWaters. From 10 a.m. to noon on Aug. 8 at Lighthouse Point, volunteers and staff of these organizations will collect trash and share information about the campaign and their programs. They will also hand out Long Island Sound wildlife stickers for reusable water bottles and travel mugs that encourage people to "Break the Single Use Plastic Habit" and "Don't Trash #LISound." Staff of the New England Interstate Water Pollution Control Commission also will join in the cleanup effort. Volunteers can register for the cleanup at: https://donttrashlisound-cleanup.eventbrite.com.
SoundWaters will lead volunteers in a cleanup of Cove Island and Boccuzzi parks in Stamford from 10 a.m. to noon on Aug. 8 as well. The rain date for both events is 10 a.m. to noon on Friday Aug. 9.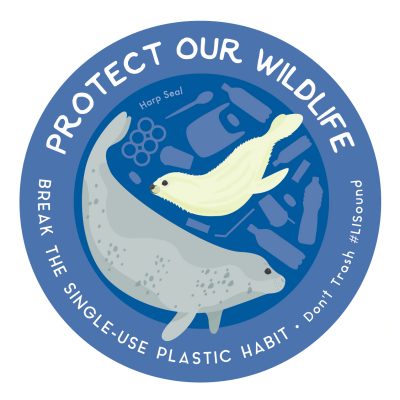 "Pollution from single-use plastics is more than an eyesore," said Frogard Ryan, state director of The Nature Conservancy in Connecticut, adding that recent steps to discourage plastic bag use in the state are encouraging. "It is harmful to wildlife and habitats, and impairs water quality. We are proud to be part of the Don't Trash Long Island Sound campaign and to raise awareness of these issues so we can protect the Sound's harbors and bays for generations to come."
Along with the beach cleanups and stickers, social media posts during the campaign with the hashtags #DontTrashLISound, #LISound and #SingleUsePlastic will showcase people taking positive actions to reduce plastic pollution. The campaign generated 82,000 Facebook and Twitter impressions in 2017 and 135,000 in 2018. Another increase is anticipated this year. The campaign will last seven weeks, leading into International Coastal Cleanup Day on Sept. 21.
"We were happy that our social media reach in last summer's #DontTrashLISound campaign increased by a large amount from the previous summer," said Robert Burg, communications coordinator for the Long Island Sound Study, a bi-state restoration effort sponsored by the EPA, Connecticut and New York. "But more importantly, the public's awareness of the plastic problem in the Sound and in the ocean, thanks to campaigns like ours, has resulted in communities, local businesses, counties, and state governments taking action to reduce single-use plastics. It's exciting to see, and we will be highlighting some of these actions in our posts this summer."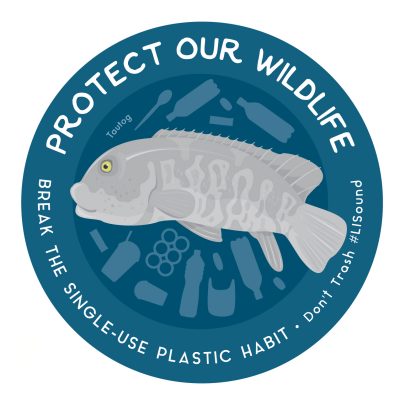 MaryEllen Mateleska, director of education and conservation at Mystic Aquarium, said the campaign is an effective way to call attention to a problem everyone can help to solve.
"This campaign provides all Long Island Sound Study member organizations with the opportunity to work as a collective and engage our audiences in a conversation around reducing our single-use plastics while continuing to improve the health of the Sound," she said. "Whether it is participation in the awareness-building social media campaign, joining a beach cleanup to remove marine debris or making personal behavior changes like skipping the straw, this campaign will demonstrate the positive impact we can have on our local ecosystems."
Judy Preston, Long Island Sound outreach coordinator for Connecticut Sea Grant and the Long Island Sound Study, urged people to be mindful of the many harmful effects all the throwaway plastics are having on wildlife and our environment, and to take actions to refuse single-use plastics and substitute with reusable items whenever possible.
"It's so much more than not using a straw," she said. "Plastics have become pervasive and the impacts to our coastal and marine wildlife are considerable. Sea turtles eat plastic bags thinking they're jellyfish, osprey become tangled in monofilament fishing line, and microplastics are showing up in the stomachs of a lot of these animals. What we do makes a difference – you can decide if it's for better or for worse. Please, don't trash Long Island Sound!"
For information, contact Judy Benson, communications coordinator at Connecticut Sea Grant, at: (860) 405-9141 or at judy.benson@uconn.edu.
---