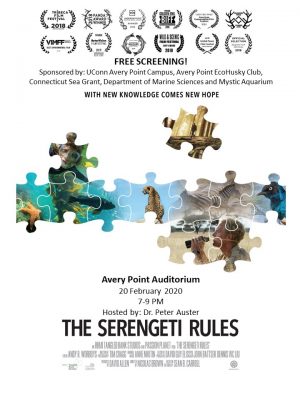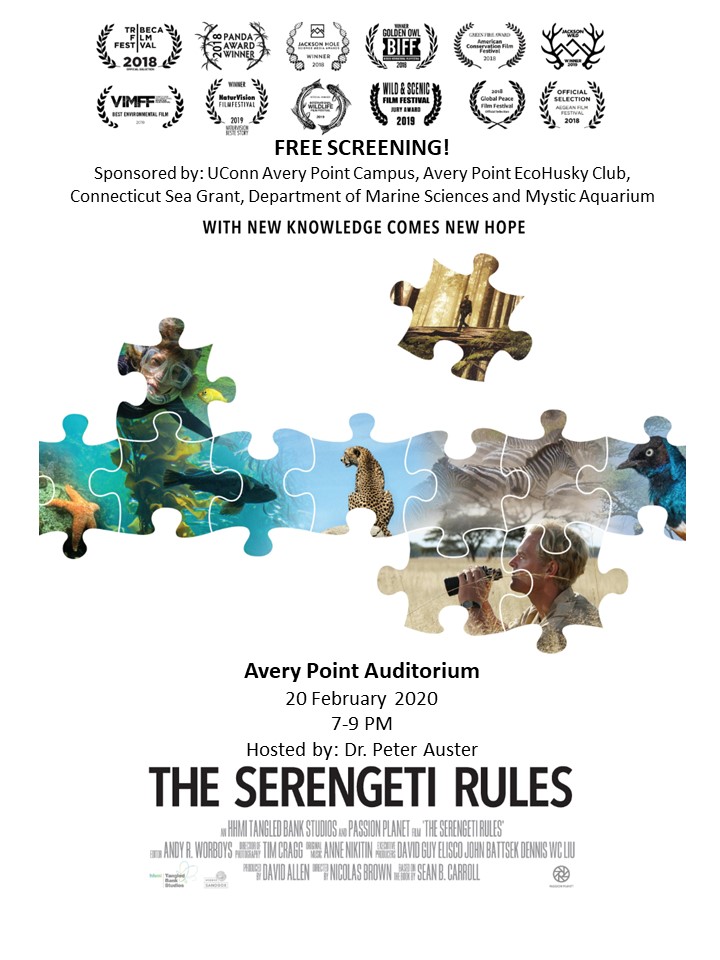 Groton — A free screening of a spectacular film about hope for the future of ecosystems on Earth will be shown from 7 to 9 p.m. on Feb. 20 in the auditorium at UConn Avery Point.
The showing of "The Serengeti Rules" is sponsored by Connecticut Sea Grant, the UConn Avery Point Campus, Avery Point EcoHusky Club, the Department of Marine Sciences and Mystic Aquarium. Peter Auster, professor emeritus in the UConn Marine Sciences Department and senior research scientist at Mystic Aquarium, will be the host.
"The Serengeti Rules" explores the discoveries of five pioneering scientists — working from tide pools and kelp forests on the west coast to the plains of east Africa — whose decades of research laid the groundwork for modern ecology and offer hope that environmentalists today may able to "upgrade" damaged ecosystems by understanding the rules that govern them.
Across the globe, they discovered that among the millions of species on our planet, some are far more important than others. These species are "keystones," because they hold the natural world together.  When keystones are removed, ecosystems unravel and collapse — a phenomenon no one had imagined — or understood until their revolutionary discoveries. But with new knowledge also comes new hope, and these same visionaries reveal the remarkable resilience of nature — and how the rules they discovered can be used to upgrade and restore the natural world. They give us the chance to re-imagine the world as it could and should be.
The movie is free and open to the public. The Avery Point campus is located at 1084 Shennecossett Road. From the Academic Building main entrance, the auditorium is on second floor at end of hall (elevator is near the bookstore, allowing mobility disabled access to the back of auditorium). People can also enter through the Student Center and use the stairs past Mort's Café to the auditorium on the second floor (an elevator across from Mort's is disabled accessible, allowing access to the front of auditorium). For questions about accommodations, send an email to: syma.ebbin@uconn.edu.
A pdf of the flyer for the event can be downloaded here.
---