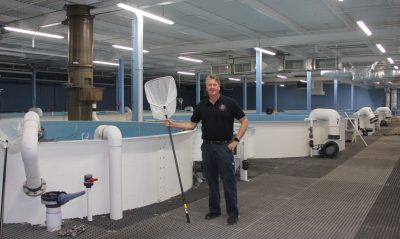 Story and photos by Judy Benson
Startup no longer, the indoor fish farm that began in a former button factory in Waterbury in 2016 is now setting the stage for an eightfold leap in production.
That's right. Eightfold.
"We're in full grow-out mode," Eric Pedersen, president and founder of Ideal Fish, said last week. "Restaurants are coming back hard and fast, but the most exciting thing is that we're now looking to build a facility that will produce 2,400,000 branzino a year."
This year, the company is on track to sell 300,000 branzino—also called European sea bass—whole and filleted. They are grown in 28 large tanks using a recirculating aquaculture system (RAS) that has helped Ideal Fish earn Certified B Corporation status for its sustainable, responsibly raised product, Pedersen said. The light, buttery-flavored fish are marketed to restaurants, wholesalers and sold frozen and packed on dry ice for delivery to home customers across the country, along with salmon, rainbow trout, Arctic char and other products from other indoor fish farms that have similar high standards.
"Diners today want a story," he said. "They want fish that is fresh and grown sustainably."
That story is told on the company's website, www.idealfish.com, and shared with the restauranteurs who want to offer their customers a meal they can feel good about, Petersen said.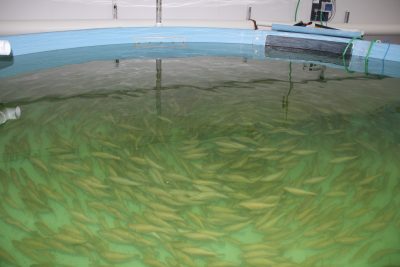 During National Seafood Month this October, Ideal Fish stands out as one of the most promising new additions to the U.S. supply of fresh caught and farmed fish and shellfish, a healthy and important source of protein and other nutrients. The company weathered the 2020 COVID-19 lockdown by creating home delivery service to replace the sudden loss of the restaurant and wholesale customers who had made up the bulk of its business. Now those sales have not only returned but surged, Petersen said, prompting him to hire new sales staff and increase his workforce from 10 to 17 over the past year. But home delivery sales, he said, will continue to be a major focus, currently accounting for about half of the company's revenue.
Tessa Getchis, aquaculture extension specialist for Connecticut Sea Grant, recalled first meeting with Pedersen when Ideal Fish was still just an idea.
"I remember years ago when Mr. Pedersen first started out and was experimenting with growing fish in his basement," she said. "It is so gratifying to see him and his team succeed after years of research and development. It just goes to show that hard work, determination and patience go a long way in this field."
Early in 2022, the company expects to break ground on a new facility located on a former brownfield site in the Naugatuck-Waterbury area, Pedersen said. Engineers are working on designing the system that continuously filters and reuses the water where the fish are grown. Investors have come forward to provide the needed capital, he said.
"We have a lot of believers in this business," he said. "Everybody's very excited about this business and its prospects."
A former financial executive whose interest in aquaculture started when he set up a fish tank for his children, Pedersen said he's sleeping much better these days than when the company first started.
"I'm at the point now where I don't worry as much," he said. "I feel like we've finally achieved liftoff."
---