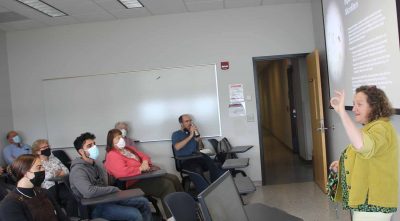 By Judy Benson
On Earth Day a few weeks ago, Syma Ebbin reflected on how science and nature poetry can work in symbiosis, with each informing and magnifying the message of the other.
She spoke to an audience gathered at Real Art Ways gallery in Hartford for a program titled, "Poetry and Science: Writing about the Natural World," which asked the question, "Can science amplify the reading and writing of poetry about the natural world?"
"It was super cool," she said. "I'm really interested in that nexus between creative expression and science, stewardship and how art is able to enhance understanding of the environment, create empathy and possibly foster more conservation-oriented behaviors."
For Ebbin, research coordinator at Connecticut Sea Grant since 2008 and UConn faculty member since 2006, the experience encapsulated what she likes best about her job: connecting the worlds of natural science, social sciences and the humanities through her teaching, pursing original research projects and working with other researchers. In recognition of the breadth and quality of her contributions to UConn and Sea Grant, she now holds the title of professor in residence (from associate professor in residence) in the Department of Agricultural and Resource Economics. The promotion was announced by UConn on April 28.
"It's wonderful to see Syma's many contributions recognized with this promotion," said Nancy Balcom, associate director of Connecticut Sea Grant. "She is a passionate educator, manages Sea Grant's research competitions, fellowship programs and arts program with integrity, and still finds time to contribute to her field through scholarly work and publications."
At Sea Grant, Ebbin oversees the application and administration of research grants to scientists and social scientists and led the creation of a research fellowship for underserved/underrepresented undergraduates. She also initiated an Arts Support Awards Program for artists who create marine-themed works. Creating that program, which has presented one or two awards annually since 2010, is one of her proudest achievements, Ebbin said.
But the interests she pursues as a teacher and academic cover a wide span, from the ecology, fisheries management and marine sciences-related work she studied as an undergraduate and pursued early in her graduate career, to the social sciences, her research on Native fisheries management and on marine spatial planning and on the impacts of offshore wind energy development, among others.
"Not many people manage to juggle teaching and administrative responsibilities while contributing to the scholarly mission of the university, but more impressive than the diversity of Syma's engagement is the consistent quality of all her work," said Sylvain De Guise, director of Connecticut Sea Grant. "Syma is an exemplary, engaged citizen of the UConn community, and her extensive civic involvement clearly extends the UConn positive image across communities at the local, regional and national scales."
Based at the Avery Point campus, Ebbin regularly teaches classes in environmental science, marine and environmental policy and one called "The Sea Around Us," a marine science course for non-marine science majors. She loves writing and engaging her students in projects focusing on real-world problems and serves as advisor to the Avery Point EcoHusky Club, which she helped found in 2007.
"I do enjoy mixing it up," she said.
Syma Ebbin can be reached at: syma.ebbin@uconn.edu.
Judy Benson is the communications coordinator of Connecticut Sea Grant.
---