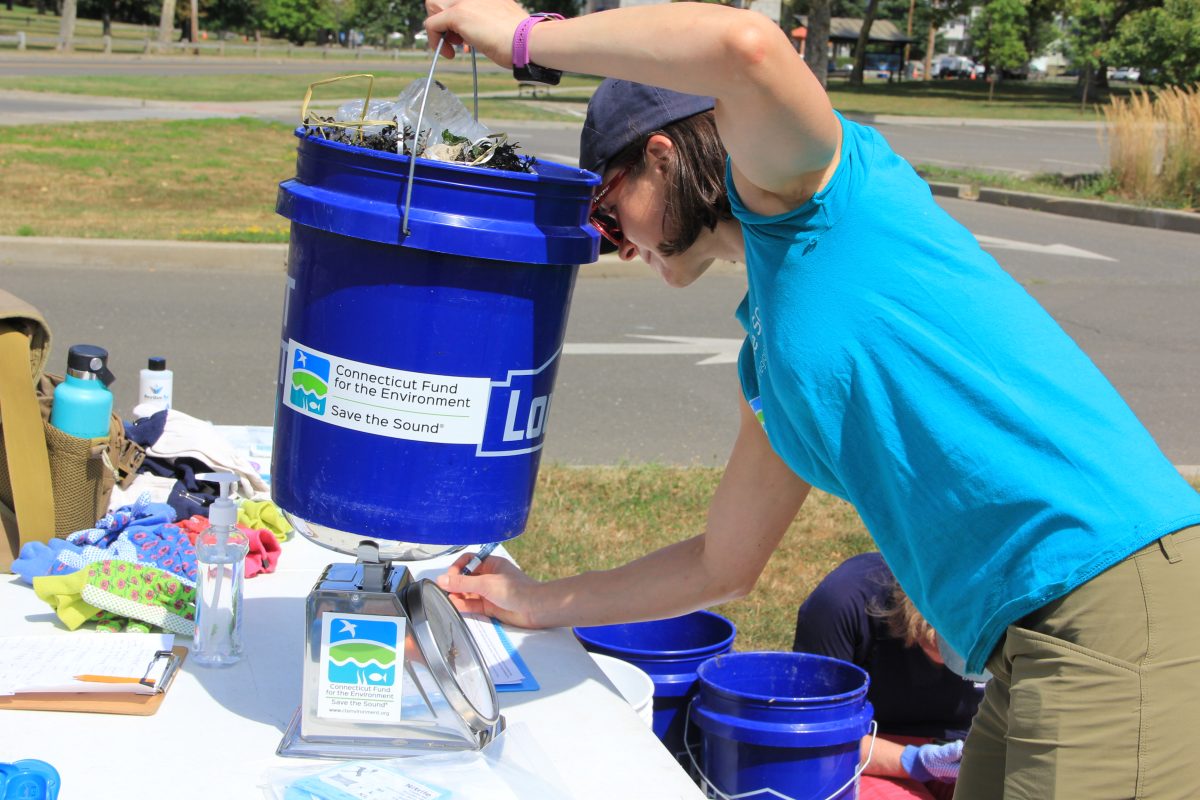 Story and photos by Judy Benson
Eighty-four pounds worth of the debris of modern civilization that would have polluted Long Island Sound instead ended up in trash bags on Aug. 15, when a small crew from Connecticut Sea Grant and Save the Sound partnered on a two-hour cleanup at Seaside Park in Bridgeport.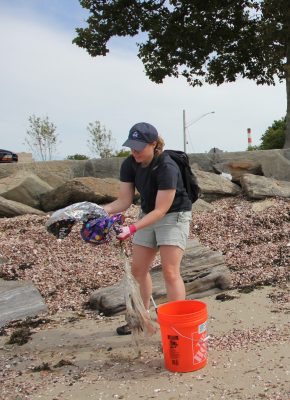 The collection netted everything from the mundane to the curious. There were plastic cups and bottles, fishing lures, dozens of food wrappers, sand toys, beer cans, a cell phone cover, face masks, mylar balloons and the socks, underwear, curtains, woven baskets, tiki torches and other items that clothe humans and outfit their homes. Much of the trash came from the narrow beach and seawall that runs along a popular walking path at the city-owned park.
The cleanup marked the kickoff of the 2022 #DontTrashLISound campaign, now in its sixth year. The campaign of social media posts and beach cleanups encourages people to switch to reusable items instead of single-use plastic ones, and to dispose of trash properly to protect humans and wildlife. Colorful "Protect Our Wildlife" stickers for reusable water bottles and travel mugs are given out as part of the campaign.
"It was a gorgeous day to be at the shore, taking the opportunity to make a small difference in this beautiful park," said Nancy Balcom, associate director of Connecticut Sea Grant. "It was discouraging, though, to see so many bottle caps and pieces of food wrappers and plastic intermingled with washed-up shells and seaweed in the area where we were working."
Annalisa Paltauf, ecological restoration assistant and volunteer coordinator for Save the Sound, suggested the location for the cleanup. The 325-acre park offers two beaches, playgrounds, ballfields, a concert bandshell and picnic areas and is frequented by fishermen, bicyclists, walkers, families with children and summer recreation programs.
"Cleanups are a great way to make instant change to the environment," Paltauf said. "It's a seemingly small change, but immediate, and everything adds up.  We are looking forward to the Connecticut Cleanup and International Coastal Cleanup Day (on Sept. 17) as a way to bring awareness to the amount of trash that accumulates in and near our waterways and to engage even more volunteers to remove and prevent it.  The #DontTrashLISound campaign is a great way to get more visibility for the cause."
The cleanup and campaign are two in a series of actions listed in the Long Island Sound Marine Debris Action Plan, released in May to guide efforts over the next five years to reduce pollution in the estuary shared by Connecticut and New York. Sea Grant programs in both states partnered with the National Oceanic and Atmospheric Administration and numerous other groups in developing the plan.
The #DontTrashLISound campaign is slated to continue through International Coastal Cleanup Day next month. For information about volunteering at an upcoming cleanup event, visit: https://www.savethesound.org/2022cleanup/
For more information about the campaign or on obtaining #DontTrashLISound Stickers for your beach cleanup, contact CT Sea Grant Communications Coordinator Judy Benson at: judy.benson@uconn.edu.
---