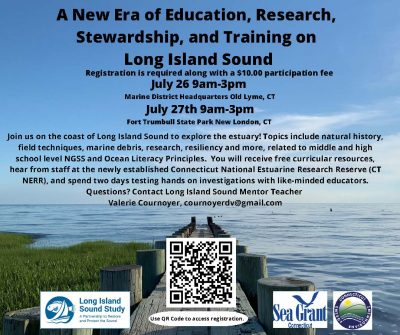 Connecticut Sea Grant, the Long Island Sound Study and the Connecticut Department of Energy and Environmental Protection invite teachers to learn how to bring lessons about the estuary to their students in "A New Era of Education, Research, Stewardship, and Training on Long Island Sound," a workshop on July 26 and 27 from 9 a.m. to 3 p.m.
The first day of the LIS Mentor Teacher Workshop will take place at the CT DEEP Marine District Headquarters in Old Lyme, and the second day will be at Fort Trumbull State Park in New London.
Registration is required along with a and a $10 participation fee. Use the QR code on the flier to access registration information.
Topics will include natural history, field techniques, marine debris, research, resiliency and more, related to middle and high school level NGSS and Ocean Literacy Principles. Participants will receive free curricular resources, hear from staff at the newly established Connecticut National Estuarine Research Reserve (CT NERR), and spend two days testing hands-on investigations with like-minded educators.
Questions? Contact Long Island Sound Mentor Teacher Valerie Cournoyer at: cournoyerdv@gmail.com.
Download a pdf of the flier here.
---