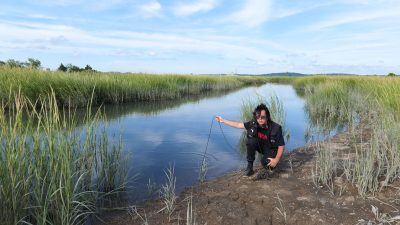 Three artists using different mediums and techniques to raise awareness about coastal assets and concerns have been chosen for 2022 Connecticut Sea Grant Arts Support Awards, more than any year since the program began in 2010.
The strength of this year's proposals builds on the growing level of excitement and awareness about the competitive program that offers artists up to $1,000 to support the creation of environmentally themed art that conveys messages aligned with Connecticut Sea Grant's mission.
"The submissions we received this year were very strong, aligning well with our strategic mission, and demonstrating how many very talented artists we have in the area," said CTSG Research Coordinator Syma Ebbin, who created and coordinates the Art Support Awards program. "The evaluation process is always difficult for reviewers and I'm so glad that this year we were able to fund more artists than usual."
The three recipients are: New York City-based multimedia artist sTo Len; art teacher and illustrator Bonnie Rose Sullivan of Canterbury; and fiber artist Marsh Borden of Guilford.
For his project, sTo Len is recording "sonic maps" of New Haven-area waterways and working with the University of New Haven's COASTS (Citizen Opportunities for Accessing Science Training on the Sound) program to engage the public in river and beach cleanups. Multimedia works combining the recordings, his photographs and some of the collected trash will be displayed at UNH's Seton Gallery and other venues. Rather than beginning the project with a fixed idea of the final product, sTo Len said it will evolve through his interactions with people and the environment.
"A lot of my work is about how people perceive water and relate to waterways and watersheds," he said. "I've learned to work in a very fluid manner, collaborating with the water, in this case Long Island Sound, and people, and being very open to what happens. I want things to be raw and real."
He has achieved a relatively high profile in the New York City art world, most recently by being named the artist-in-residence for the New York City Department of Sanitation from July 2020 through the end of this year. In that post, he has been learning about the department and creating videos, signs, outreach materials and other works to educate the public about the vital role its workers play in the health of the city and encourage residents to be more mindful of how they can produce less waste.
Doing a project in Connecticut appealed to him, he said, after he earned his master's degree at the University of Hartford but did not have a chance to get to know the state well because the program focused on creating place-based art in different locations across the country.
Sullivan, a teaching artist at the New Britain Museum of American Art, is also looking to raise awareness about the coastal environment through her work.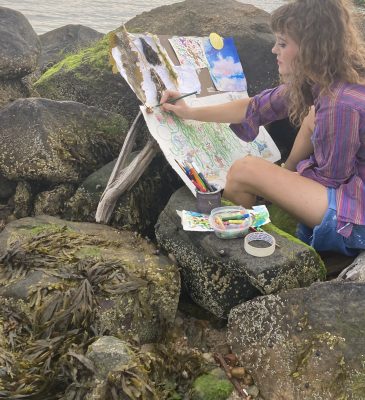 For her project, Sullivan is writing and illustrating a children's picture book titled, Rory and Mo Are Ocean Farmers!, which aims to introduce and demystify ocean farming for students, while promoting the fun and magic of learning about of the coastal assets of marine environments. The book showcases sugar kelp farming in Long Island Sound as a sustainable, environmentally friendly product that can be harvested for nutritious food, used in biodegradable plastics and fertilizer and numerous other applications.
"In a new world where global warming continues to change our lives," Sullivan said, "it will also continue to evolve the working reality of the jobs people hold, and how they live. The question of 'what do you want to be when you grow up' now has different answers, different possibilities."
This book, Sullivan hopes, will encourage students "not be immobilized by these challenges, but to be knowledgeable and empowered with options instead."
Sullivan will also be creating a free STEAM-focused professional development day for educators this spring at the museum for its partner schools and community. Sullivan's original illustrations will be on view during this event, which will also provide educators free access to the book and companion lessons for elementary, middle school and high school student that will meet the CT Common Core standards.
A professional ocean farmer will be a featured speaker at this event.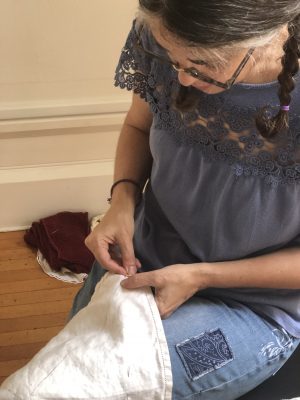 For her project, Borden is focusing on some of the microscopic life in Long Island Sound that's more a cause for concern than celebration. But the overall message, like Sullivan's, will also be set against the background of climate change.
"As a textile artist using tactile, hands-on materials, I've been actively exploring environmental issues in my work for many years as a way to raise awareness of how our planet copes with global warming," she said.
Some of Borden's previous planet-conscious projects have included a commissioned installation in downtown New Haven involving almost two thousand repurposed plastic bags and an artist-in-residence weaving project depicting warming temperatures and climate change.
Using slow stitch fiber arts techniques combined with second hand or "upcycled" materials, Borden will fashion larger-than-life depictions of multiple types of microalgae that can occur in the Sound. These include those that can release toxins and create harmful algal blooms (HABS), as well as "good" algae.  Educational materials about HABs will accompany her work. The state has a robust monitoring system in place to detect and respond to HABs, but the risk of these blooms is increasing as marine waters acidify and become warmer with climate change.
"I became aware of harmful algal blooms when I was researching the CT Sea Grant program," she said. "I thought it would be interesting—and impactful—to magnify these tiny organisms by essentially becoming the microscope for people so the algae can be seen in their various shapes, colors and textures."
She hopes to display her work at the Alexey von Schlippe Gallery at UConn Avery Point as well as other avenues around Connecticut.
Ebbin said she is excited at the ways this year's projects achieve the goals of the program.
"I think the suite of unique and compelling projects that these artists have proposed will have profound impacts on how we view Long Island Sound, and how we choose to treat its waters and the organisms that live within it.," she said. Ebbin noted that the 2023 Call for Artists has been launched and more information is available on the CTSG website.
For more information, contact Judy Benson, CTSG communications coordinator, at: judy.benson@uconn.edu
---