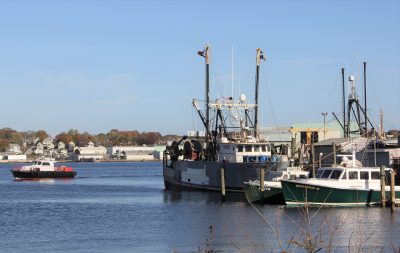 Applications due on May 5, 2023.
The Connecticut Sea Grant Coastal and Marine Economics Graduate Fellowship Program was established to enable one or more selected graduate students per year to conduct independent fundamental or applied economic research for one year under the guidance of their academic advisor.
Interested applicants can find full application, submission and evaluation guidance here.
The purpose of the fellowship is three-fold: (1) promote a real-world professional development opportunity aimed at enhancing the career goals of the fellow, (2) enhance economic alignment to the coastal and marine goals of the CTSG 2024-27 Strategic Plan through their individual project, and (3) learn about CTSG and engage staff on economic aspects of existing and emerging program needs.
The program will do so by awarding one or more CTSG Graduate Economics Fellowships for the 2023-24 academic year. The award will consist of a service-free fellowship providing a $20,000 annual stipend. Preference will be given to applications for which the host department will couple the fellowship with a partial or full assistantship that covers the fellow's graduate tuition and benefits.
The 2023-24 fellowship is open to graduate students who will be enrolled in an economics-related MS or PhD graduate program in a Connecticut academic institution during the duration of the fellowship (i.e. the fall 2023 and spring 2024 semesters). The fellowship is open to applicants irrespective of their citizenship or nationality, as long as they are enrolled in an eligible graduate program. The successful fellow's academic advisor must be affiliated with a Connecticut academic institution, with expertise relevant to the proposed research. CTSG is strongly committed to enhancing diversity, equity and inclusivity in higher education and encourages submissions that help achieve those objectives.
CTSG areas of particular interest:
Valuation of ongoing efforts/sectors relevant to Sea Grant activities, such as valuing recreational fisheries in Connecticut, marsh restoration efforts, etc.
Valuation of environmental/ecosystem services
Economic analyses of climate change impacts on coastal and marine sectors and ecosystem services in Connecticut
Economic and societal impacts derived from Sea Grant activities (market and non-market; jobs and businesses created or sustained)
Economic value of coastal and marine habitats and ecosystems.
Submissions must be received by 4:30 PM May 5. A pdf of the complete Call and Guidance on how to apply can be found here.
Read about the candidate selected as the first CTSG Marine and Coastal Economics Fellow here.
For more information: see https://seagrant.uconn.edu/funding/fellowships/, or contact:
Dr. Syma A. Ebbin, research coordinator
Connecticut Sea Grant College Program
The University of Connecticut
1080 Shennecossett Road
Groton, CT 06340-6048
Tel: (860) 405-9278; Fax: (860) 405-9109
Please contact Dr. Syma Ebbin at the CTSG office, (syma.ebbin@uconn.edu) for additional information.
---