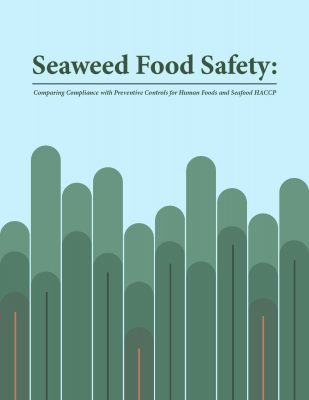 The National Sea Grant Law Center has announced the release of a new seaweed food safety publication produced in partnership with New York Sea Grant and Connecticut Sea Grant as part of the National Seaweed Hub.
"Seaweed Food Safety: Comparing Compliance with Preventive Controls for Human Food with Seafood HACCP" was developed to help the emerging seaweed industry understand the prevailing regulatory requirements surrounding the production of seaweeds as foods. There are currently two regulations that are being used to regulate seaweeds at either the federal or state level, the Food Safety and Modernization Act's Preventive Controls for Human Foods regulation, which includes current Good Manufacturing Practices, and the Seafood HACCP regulation. This guide will help readers understand the similarities and differences between the two regulations to be more informed and determine how their operations will be regulated federally.
The guide was drafted by a core team including Dr. Michael Ciaramella of New York Sea Grant, Anoushka Concepcion of Connecticut Sea Grant, and Catherine Janasie and Stephanie Otts of the National Sea Grant Law Center. Members of the National Seaweed Hub's Regulations Work Group and the Seaweed Food Safety Training Workgroup (coordinated by New York Sea Grant), which include agencies, academics, industry, and non-profits, assisted with revisions and edits.
This report is a product of the National Seaweed Hub's Regulations Work Group. It is one of 4 responsive resources developed to address an immediate need identified by the national seaweed aquaculture stakeholders.
---