Introduction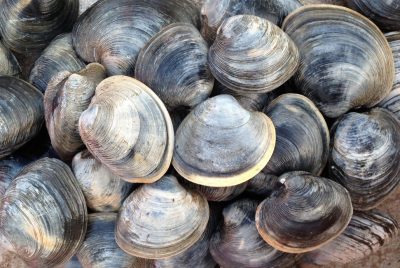 Connecticut is a major producer of shellfish, including oysters and northern quahog clams, valued at greater than $25 million. A large percentage of this product is farm-raised. There are 43 companies that employ greater than 300 individuals. The vast majority of the industry continues to practice traditional bottom cultivation relying on natural seed production or seed gathered from natural beds. However, a growing number of operations are utilizing submerged aquaculture gear such as cages, bags, longlines, etc. for nursery culture, grow-out and/or depuration. Two hatcheries, one in the east (Noank) and one in the west (Norwalk) supply shellfish seed to these companies. A number of other species are being studied for commercial viability including Nori (a red seaweed), blue mussels, bay scallops, and black seabass. In addition to commercial aquaculture, habitat restoration and stock enhancement activities are being carried out by several non-profit organizations and municipal shellfish commissions. Commercial freshwater aquaculture is limited mainly to trout and baitfish, though backyard aquaculture and aquaponics are very popular.
To learn more about aquaculture in the State, download the Connecticut Aquaculture Situation and Outlook Report.
Purpose
The goal of the Connecticut Sea Grant Aquaculture Program is too contribute to the expansion of environmentally- and economically-sustainable marine aquaculture industries in Connecticut and the Northeast. The program aims to address needs of a growing industry through an integrated program of research, outreach and education that reduces impediments to a sound business; improves profitability; manages aquatic health; addresses issues of conflict and policy; and assesses impacts of aquaculture on the environment. Extension staff conduct collaborative research projects with industry, work with university scientists on applied research, partner with resource managers to streamline the aquaculture permitting process, assist municipal commissions with shellfisheries management efforts, offer technology and information transfer seminars and provide one-on-one consultations for prospective industry members. Staff members also offer educational programs to community groups and school systems on aquaculture and shellfisheries topics. Its is our belief that by educating the public about the role that aquaculture plays in our food supply, economy and society, aquaculture will gain greater acceptance and growth will be encouraged.

For more information, visit the Connecticut Shellfish Initiative website
Contact
Tessa Getchis, Extension Educator
Publications
View our aquaculture publications.
View our shellfish publications.
Aquaculture Resources
Seaweed Cultivation: CTSG Outreach and Extension Activities