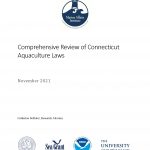 The newly published Comprehensive Review of Connecticut Aquaculture Laws assesses the state's aquaculture laws and compares various aspects of Connecticut's aquaculture laws to those of competitor states in the Northeast and Mid-Atlantic.
It addresses 11 major questions and suggests policy changes to strengthen regulatory systems of  aquaculture, which is an important part of the state's seafood industry and has deep roots in its history that impact the legal systems regulating aquaculture development today. Shellfish aquaculture dominates the state's aquaculture production, but seaweed aquaculture is an emerging industry and is also addressed in this document.
This document was produced by legal staff of the Marine Affairs Institute at Roger Williams University School of Law and the Rhode Island Sea Grant Legal Program. It was funded through a National Sea Grant project awarded to Connecticut Sea Grant and the CT Bureau of Aquaculture. The project involved a collaboration between CT Sea Grant and staff at the state Department of Agriculture Bureau of Aquaculture.
An ADA-accessible version of Comprehensive Review of Connecticut Aquaculture Laws can be found here.
---