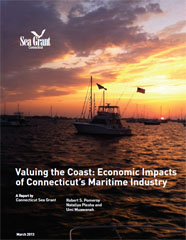 Robert S. Pomeroy, Nataliya Plesha and Umi Muawanah.
The goal of this study was to ascertain and document the significance of the maritime industry to Connecticut's economy. The specific objective is to estimate the total economic impact of maritime industry sectors through the use of an economic model of the Connecticut economy.
Publication number CTSG-13-06.
---