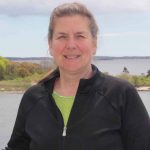 Connecticut Sea Grant's Juliana Barrett was interviewed for a recent episode of The Full Story on WSHU Public Radio about beach resilience. Titled, "Can Beach Erosion Be Controlled?" the broadcast can be accessed here.
The program addresses how beaches along Long Island Sound are changing and what's being done to protect them.
Barrett, coastal habitat specialist at Sea Grant, joined guests Alexander Felson, deputy executive director and director of design for resilience at the Connecticut Institute for Resilience and Climate Adaptation; Henry Bokuniewicz, distinguished service professor at Stony Brook University School of Marine and Atmospheric Sciences; Kevin McAllister, founder and president of Defend H2O; and Joe Michaelangelo, director of public works for the town of Fairfield on the 45-minute program.
---