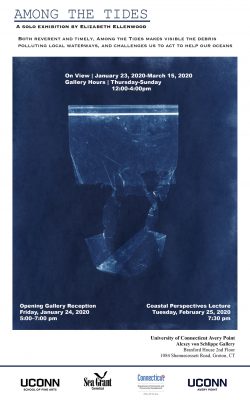 "Among the Tides," a new exhibit featuring the work of photographer Elizabeth Ellenwood, will be on display at the Alexey von Schlippe Gallery at the University of Connecticut's Avery Point Campus from Jan. 23 through March 15, with an opening reception Jan. 24.
The reception will take place from 5 to 7 p.m. at the gallery, located on the second floor of the Branford House at the Avery Point campus.
Ellenwood, recipient of a 2019 Connecticut Sea Grant Arts Support award, uses historic and modern techniques to transform plastic beach trash and microplastics into images that call attention to global ocean pollution. She uses the cyanotype process developed in the mid-1800s to create photographic prints without using a camera of discarded plastic items such as balloons, take-out cups, sandwich bags and lighters. The images, on chemically treated blue paper exposed to the sun, are then transferred in a second step using the wet plate collodion process onto colored glass.
Ellenwood also creates works out of microplastics — tiny plastic fragments that can harm wildlife if ingested. She uses digital photography to capture images of the brightly colored shards found in samples of sand examined under microscopes. A Pawcatuck resident, Ellenwood is pursuing a master of fine arts degree at UConn.
As part of an interdisciplinary facet of her project, Ellenwood and UConn Marine Sciences Prof. Evan Ward, who is currently conducting research on microplastics in shellfish, will discuss the issue of global plastic pollution at a Feb. 25 lecture at Avery Point. Titled, "Visualizing Plastic: Integrating Science and Art to Inspire Change," it is part of the free public Coastal Perspectives Lecture Series. The talk will take place at 7:30 p.m. in the auditorium.
The Alexey von Schlippe Gallery is open Thursday through Sunday from noon to 4 p.m. Admission is free.
---