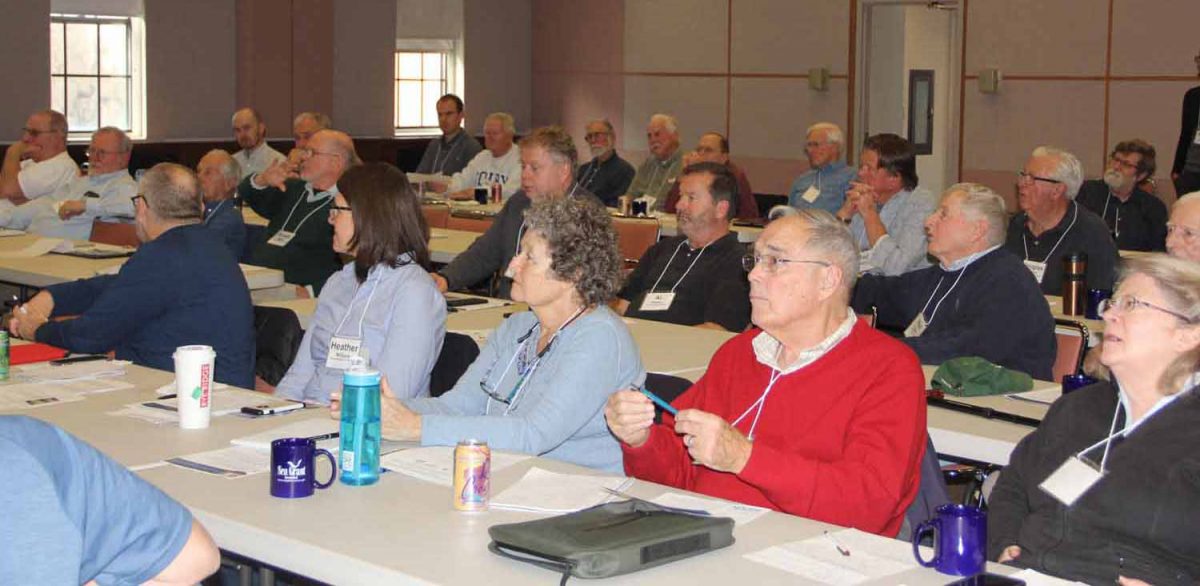 Story and photos by Judy Benson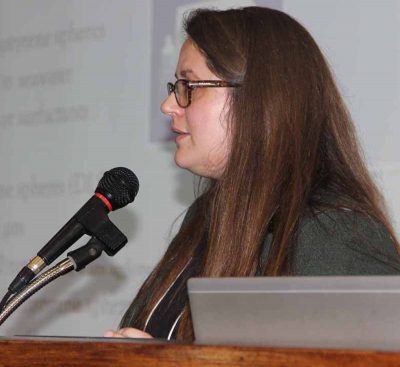 New Haven – Worrisome questions about whether plastic pollution and changing water chemistry are affecting Long Island Sound's edible shellfish got some reassuring – though qualified – answers at a meeting of Connecticut's municipal shellfish commissions on Jan. 11.
"There is no trend as of yet that Long Island Sound is acidifying," said UConn marine sciences Professor Penny Vlahos, summing up the main message of a presentation by her graduate student Lauren Barrett.
Vlahos and Barrett spoke to a roomful of about 50 members of the state's municipal commissions that govern shellfishing in local waters. Gathering at the Connecticut Agricultural Experiment Station's auditorium, they had given up a 60-degree Saturday at the start of the New Year to learn and share news about the world where they focus their energies as volunteers. The annual meeting, first held in 2004, is hosted by Connecticut Sea Grant, UConn Extension and the state Department of Agriculture's Bureau of Aquaculture.
Barrett's talk was the first in the daylong program covering the scientific, regulatory and public relations aspects of the recreational and commercial harvesting of oysters, clams, mussels and scallops from town and state-owned waters of the Sound. Her remarks focused on Shell Day, a New England-wide monitoring blitz on Aug. 22 to measure indicators of coastal ocean acidification such as pH, alkalinity and salinity levels. Barrett said seven citizen science groups across the Long Island Sound shoreline participated in collecting the water samples, which were then analyzed by the UConn Marine Sciences Department.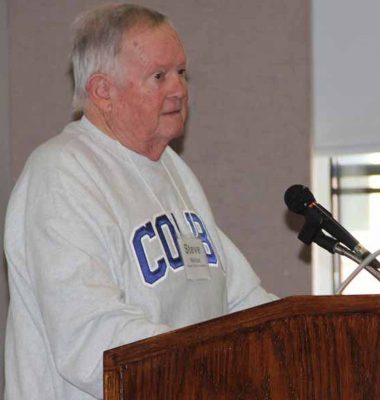 Vlahos said Shell Day 2019 was a "proof of concept" that a monitoring blitz could provide valuable information to keep abreast of changes in coastal water chemistry. The idea grew out of concerns that rising levels of CO2 will acidify coastal waters and impede the ability of larval shellfish to create shells.
"The dream would be to do this every year," she said.
Early results from research about plastics in shellfish also allayed immediate concerns. Vena Haynes, a doctoral student working with UConn Marine Sciences Professor Evan Ward, described a project in which blue mussels were exposed for two weeks to water with high concentrations of microplastics – shards about 5 micrometers in size – and nanoplastics – those about 2 microns in size. Next, the shellfish were moved to clean water, and their tissue and waste analyzed to determine how much of the plastics, if any, were retained in their systems and how much was filtered out.
"There was no evidence of plastic accumulation in the tissue," Haynes said. "They really do eliminate these particles rapidly, when you give them time to depurate."
The research, she noted, will continue with different types of shellfish and different plastic types, sizes and shapes.
Following these presentations, representatives from each of the shellfish commissions gave updates on the accomplishments, setbacks, challenges, permit sales, public outreach events and ongoing projects in each of their towns. In three towns – Clinton, Old Saybrook and Stamford – recreational shellfish beds have been reopened or are in the process of being reopened after many years of closure.
"We're trying to get started on water sampling," said Paul Adelman, a member of Stamford's Harbor Management Commission that has been tasked by the mayor with getting shellfish beds reopened.
"Hopefully by this time next year, we'll be able to report some progress."
Three more towns – Madison, Groton and Stonington – were able to expand or upgrade existing areas for commercial or recreational shellfishing, thanks to improvements in water quality verified with testing projects.
Tessa Getchis, Sea Grant extension educator and meeting organizer, remarked that these shellfish area reopenings and upgrades take a significant amount of effort, often requiring several years of planning, water and shellfish sampling and data analysis. She commended the efforts of the commissions and Bureau of Aquaculture to improve access to both recreational and commercial shellfishing.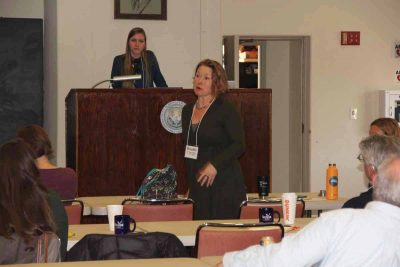 Commission members then heard updates from Bureau of Aquaculture Director David Carey and two staff members on efforts to restore shellfish beds, map existing oyster beds and enhance the data collection and analysis of water quality assessments used to classify shellfish beds. A new online tool being developed for recreational shellfishermen is expected to be ready by next month, said Kristin DeRosia-Banick, environmental analyst at the aquaculture bureau. The recreational shellfishing app, developed by UConn's Center for Land Use Education and Research, Sea Grant and the Bureau of Aquaculture, will give easy access to information about which beds are open and closed, she said. The app will also include rules, fees and tide chart information for all coastal towns.
"It'll be a very simple map viewer, with green for go and red for stop," she said.
Sylvain De Guise, director of Connecticut Sea Grant, offered an update about the Long Island Sound Blue Plan, an information and resource guide to enhance management of the estuary, including its commercial and recreational shellfish beds. A final draft of the Blue Plan, the first marine spatial plan for the Sound, will be considered for approval by the state Legislature in the upcoming session. De Guise said the plan will be a useful document for shellfish commissions to use when making decisions about commercial and recreational shellfishing. A users' guide for the plan is being created.
"It makes the information available to everyone to view in an easy way," he said.
While much of the information shared dealt with progress and positive developments regarding shellfishing in Connecticut, commissioners were cautioned to stay alert for potential hazards.
Emily Van Gulick, biologist at the aquaculture bureau, delivered the final presentation about the algal blooms that periodically plague shellfish beds on both the East and West coasts. Some types of algae can bloom and release toxins that can be retained by shellfish even after cooking. While few harmful algal blooms have occurred in Connecticut, widespread blooms were detected in 2016, 2017 and 2018 in Maine and Rhode Island, prompting closures of shellfishing areas.
"They could show up at any time," Van Gulick said.  "We need you to report anything to us that seems out of the ordinary – discolored water, animal kills, strange marine behavior."
The annual meeting ended on a positive note, with attendees praising each other for their efforts to protect human health and manage recreational and commercial shellfish beds for the future.
Judy Benson is the communications coordinator for Connecticut Sea Grant.
---