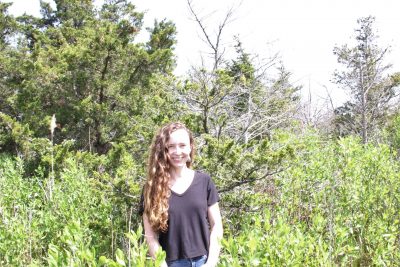 By Judy Benson
Most visitors to Hammonasset Beach State Park in Madison, Conn., probably drive by the small stand of cedar trees along the main road without noticing the stark differences.
One group presents healthy deep green funnels pointing skyward. Adjacent is another group partially bare of needles. A few feet away is a clump of standing dead wood, spiny gray branches fully exposed.
The contrasting conditions in this short wooded stretch may be easy for beachgoers to overlook, but Mary Schoell has given it countless hours of attention over the past two years. She's examined nearly every angle of the health and environment of the same stand of trees, using techniques of dendrochronology to measure growth from tree cores, then assessing impacts of water stress, soil types and elevation. With this data she pieces together a story of how encroaching salt water from sea level rise is affecting tree growth. What she learned there helped pave the way for the next phase in her career, as a National Oceanic and Atmospheric Association digital coast fellow.
"I've been trying to understand the pace and the drivers that convert coastal forest into wetlands," said Schoell, 27, who grew up in East Haddam and earned her undergraduate degree from UConn and her master's from the Yale School of the Environment this spring. Between the degrees, she worked for three years for the Environmental Protection Agency's Atlantic Coastal Science Division in Rhode Island as a contractor on a living shoreline project.
Nominated by Connecticut Sea Grant for the digital coast fellowship, Schoell is one of nine candidates nationwide chosen in 2020 for the two-year program.
"The NOAA Digital Coast Fellowship is relatively new and Mary is the first candidate from a Connecticut institution to receive one," said Syma Ebbin, research coordinator for Connecticut Sea Grant. "We're excited to see what she can do with this opportunity and how it contributes to her professional development as a coastal scientist."
Schoell will begin her assignment in August, working out of the National Estuarine Research Reserve (NERR) on Prudence Island in Narragansett Bay in Rhode Island. There she will work on projects that tap her wetlands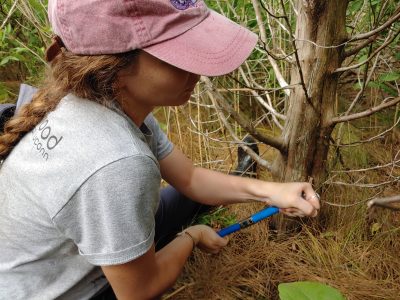 expertise to refine and compare different modeling approaches used existing to predict how and where salt marshes will migrate inland as sea level continues to rise. One well recognized model is called SLAMM (Sea Level Affecting Marshes Model). By bringing together modelers from throughout the country, she hopes to assess the potential for a standardized, national mapping tool.
An equally appealing part of her assignment, she said, will be doing outreach and education about wetlands migration.
"I'll be working with end users of this tool, like land trusts and municipal governments and private landowners to understand what kind of information they need to promote marsh migration," she said.
While she will be based at the NERR site in Rhode Island, her project is designed to benefit the entire system of 29 NERRs nationwide. Soon, that may soon grow to include one in Connecticut. An application to establish a NERR at sites in Groton and the lower Connecticut River is in progress with NOAA. Connecticut Sea Grant is part of the group leading the effort.
"I'm really excited about that," she said. "I feel really connected to that part of the state."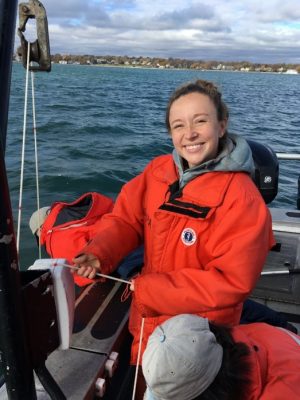 Shimon Anisfeld, senior lecturer and research scientist in Forestry and Environmental Studies at Yale, was Schoell's master's program advisor. Her work at the Hammonasset site, he said, demonstrated a relatively new way to look at how salt marsh migration is occurring in the real world.
"It's an exploding field, borrowing this tool from forestry science to study marshes," he said. "It's important to know how are marshes are going to move upslope in order to protect them."
Sylvain De Guise, director of Connecticut Sea Grant, said Schoell has already made important contributions to the understanding marsh migration.
"Mary's approach is to salt marsh migration is innovative and with her strong technical skills acquired through academic and work experience, and her clear goals aligned towards a career in coastal management, I am not surprised that she was selected as a fellow," he said.
While the field work and research of her master's degree program was rewarding, Schoell said, she is excited now for the chance to use her skills to help with the real-world challenges of wetlands.
"My project will be working with people throughout the NERR system, and help people make better land use decisions for ultimately a more resilient coast," she said.
Judy Benson is the communications coordinator for Connecticut Sea Grant.
---