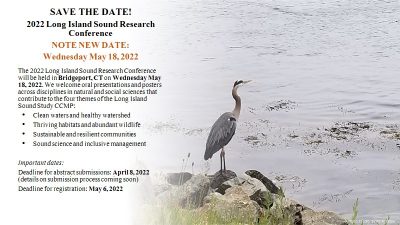 The 2022 Long Island Sound Research Conference will take place in Bridgeport on May 18, 2022 at Housatonic Community College in Bridgeport. Oral presentations and posters across disciplines in natural and social sciences that contribute to the four themes of the Long Island Sound Study CCMP are welcome. These are:
Clean waters and healthy watershed
Thriving habitats and abundant wildlife
Sustainable and resilient communities
Sound science and inclusive management
Deadline for abstract submissions is April 8, 2022. Registration deadline is May 6, 2022.
Registration and abstract submission information can be found here.
Download the flier here. Information: syma.ebbin@uconn.edu
Watch for more details!
---